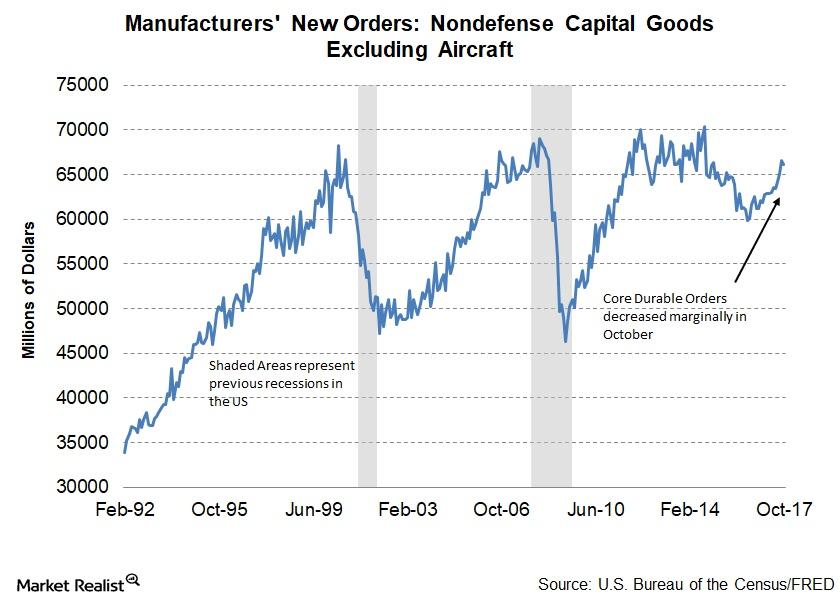 The Only Negative Component of the Conference Board Index
Non-defense capital goods excluding aircraft orders drop
The report for non-defense capital goods excluding aircraft or core capital goods is released by the US Census Bureau. This report also refers to core capital goods orders. New orders for machinery, tools, and equipment from industries are tracked by this index.
The Conference Board Leading Economic Index (or LEI) includes the level of capital goods orders as one of the constituents in its economic model. If industries (XLI) are investing additional capital, it is a sign of confidence about future demand, a leading indicator of future economic growth.
This is the primary reason for the Conference Board Index to include core capital goods orders. The total weight for non-defense capital goods on the LEI is 4.0%.
Article continues below advertisement
Recent economic data
According to the November Conference board LEI, the core capital goods orders for October totaled ~$38.4 billion, compared to a revised September reading of ~$38.7 billion. This is the only negatively contributing component to the Conference Board LEI in October.
The possibility of a change to the capital goods expensing process, as proposed in the Trump administration's tax reform bill, could impact purchase decisions in the future. An increase in core capital goods (VIS) orders is considered a positive signal for the economy.
Market impact of core durable goods orders
The primary benefactor of an increase in core durable goods orders is the industrial sector (IYJ). Shipping companies (SEA) experience higher demand if the goods are imported, which is usually the case.
If there is a provision for expensing capital goods in an accelerated manner in the tax reforms, capital goods (DXJC) industries would stand to benefit as demand could pick up after the reforms are announced.
In the next part of this series, we'll analyze how the housing sector pushed the Conference Board LEI higher in November.