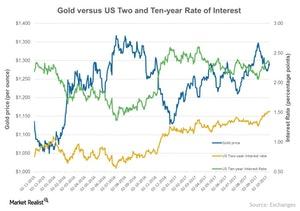 The Fed's Implications on Precious Metals
Gold and interest rates
Precious metals rose on Tuesday after their impactful retreat on Monday. The market was eagerly waiting for the Federal Reserve minutes due on Wednesday. These minutes could closely guide investors on whether the interest rate hike is coming up in December or not. Surging interest rates, as we know, are detrimental to precious metals as the opportunity cost of holding non–yield-bearers expands.
The chart below compares gold's performance versus US two- and ten-year interest rates (SHY)(IEF). In the longer term, they're expected to follow an inverse trend with each other. However, in the shorter run, the relationship may not hold true.
Article continues below advertisement
Markets await new Fed chair
The Federal Chairwoman Janet Yellen said on Monday that she would resign her seat on the Federal Reserve's Board of Governors once Jerome Powell is confirmed and sworn in. The markets have also added some volatility, and traders are adjusting their positions to avoid any adverse implications of the incoming Federal Chairman.
Market participants might closely watch the economic numbers that come out of the United States and also the numbers that guide the direction of inflation. Inflation also plays a significant role in driving precious metals—especially gold.
Among the famous gold and silver funds, the iShares Gold Trust (IAU) and iShares Silver Trust (SLV) were up 0.16% and 0.19%, respectively, for the day.
Mining stocks that also rose on Tuesday include First Majestic Silver (AG), Royal Gold (RGLD), Alamos Gold (AGI), and New Gold (NGD).