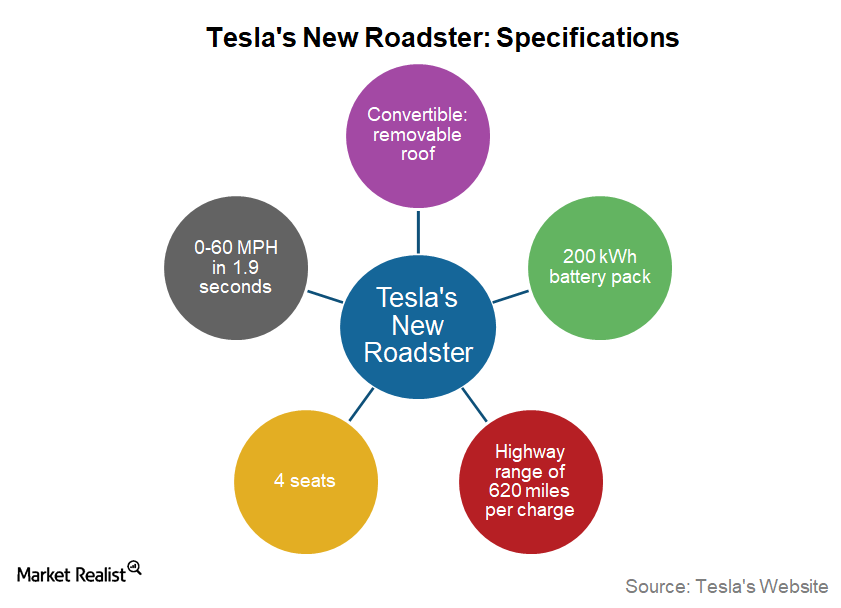 Tesla's New Roadster: The Surprise at the Semi Truck Event
The surprise at the semi truck event
In the previous part of this series, we looked at key specifications and features of Tesla Motors' (TSLA) all-electric semi truck. We also looked at its driving range, which impressed many analysts and exceeded their expectations. After the semi truck was unveiled at the event on November 16, 2017, Tesla's CEO (chief executive officer) Elon Musk surprised everyone by also unveiling a newer high-end version of the Roadster sports car. The first look of the new Roadster convertible seemed to stun the crowd. Let's take a look at this new car from Tesla.
Article continues below advertisement
Tesla Roadster convertible specifications
Tesla's new Roadster is a convertible sports car. According to the company, it's capable of achieving 0–60 MHP (miles per hour) in 1.9 seconds and 0–100 MPH in 4.2 seconds. That makes the Roadster the world's fastest production car, even faster than the Ferrari (RACE). While the exact top speed of the luxury sports car is still unknown, Tesla's CEO (chief executive officer) Elon Musk claimed it can go more than 250 MPH.
Extraordinary driving range
The base model of the car will come with a 200 kWh (kilowatt hour) battery pack with three motors, which would result in a torque of 10,000 nm (newton meters). Although the car is said to have four seats, the two seats in the rear may not actually accommodate two adults.
With its extraordinary driving range of 620 miles per charge, it would beat all other electric cars currently out there.
The company has stated that the new Roadster convertible will be available in 2020. The first 1,000 customers could make reservations for the car by paying $250,000 up front.
Having a high-performance sports car like the Tesla Roadster convertible and a mass-market sedan Model 3 in its product line could make Tesla stand out among other automakers (IYK). But even so, Tesla continues to face criticism. Let's look at that in the next part.