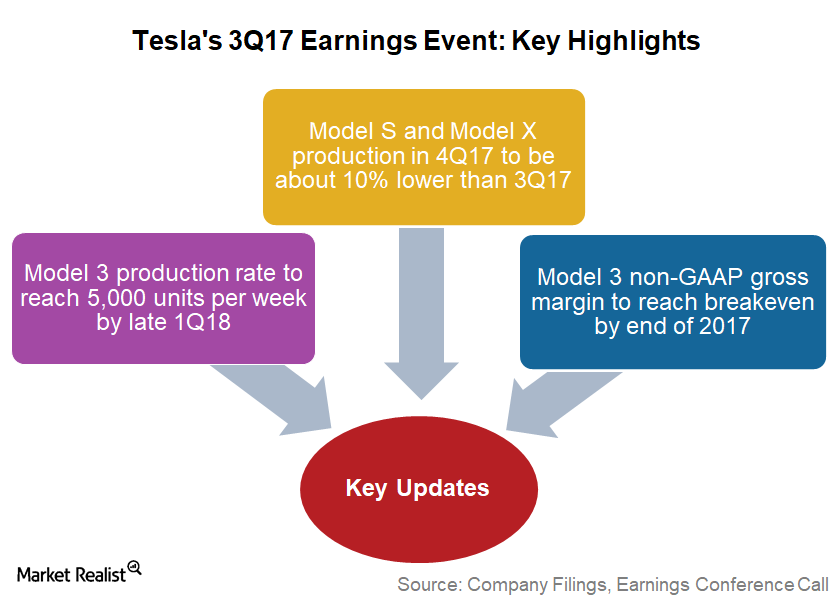 Tesla's 3Q17 Earnings Call: Why Elon Musk's Magic Didn't Work
Updates on Model 3 production
According to Tesla's 3Q17 shareholder letter, the company is still fixing Model 3 production bottleneck issues. However, the company also mentioned that it's difficult to say at this point when exactly all these bottlenecks will be resolved. Due to these bottleneck issues, Tesla delayed its target to achieve a production rate of 5,000 Model 3 units per week to later months of 1Q18 from the original target of the end of 2017.
While commenting on this delay, Tesla's CEO, Elon Musk, stated, "I think this is a relatively small shift. The Model 3 is a 10-year program, and so we're talking about a few months out of the 10-year program that's in the grand scheme of things."
Article continues below advertisement
Uncertainties hurting sentiments?
Musk reassured investors that these production bottlenecks would be resolved soon and that the Model 3 production rate is likely to rise exponentially towards the end of this year. Musk also mentioned that he expects the Model 3 production rate to reach "a few thousand units per week at the end of Q4." However, these comments didn't boost investors' confidence, as Musk also suggested that expected exponential growth in Model 3 production "could move the calendar date, by plus or minus a few weeks," which kept uncertainties alive.
Other mainstream automakers (IYK) are also preparing to compete with Tesla Model 3. General Motors (GM) recently announced intentions to launch two new electric vehicles in the coming 18 months. Ford (F) and Fiat Chrysler (FCAU) also have accelerated their electric vehicle development programs lately.
Model S and Model X production to fall in 4Q17
According to Tesla's latest guidance, it expects its 4Q17 Model S and Model X to be about 10% lower as compared to 3Q17. The company mentioned "the reallocation of some of the manufacturing workforce towards Model 3 production" as a reason for this lower production expectation.
TSLA expects its gross margins from Model 3 to be at the break-even mark on a non-GAAP (generally accepted accounting principles) basis by the end of 2017. With this, the company guided its non-GAAP automotive gross margins to be ~15% in 4Q17.
Continue to the next part to learn about the factors that could affect Tesla's valuation multiples in 3Q17.