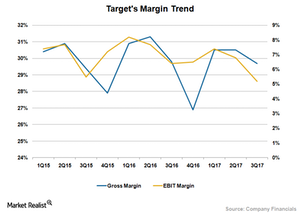 Why Target Disappointed on Margins in 3Q17
Gross margin continued to fall
Target (TGT) continued to disappoint on margins. The company's margins fell in fiscal 3Q17 despite improved sales and cost-saving measures. During the reported quarter, Target's gross margin fell by ten basis points to 29.7%. The benefits from improved sales and cost-savings measures were more than offset by lower pricing and higher promotions. Increased digital fulfillment charges dented the company's gross margin rate.
In comparison, Costco's (COST) gross margin also fell during the last reported quarter. Lower pricing continues to pressure Walmart (WMT) and Kroger's (KR) gross margin rate.
Article continues below advertisement
Going forward, Target's gross margins are expected to remain soft as value pricing, higher promotions during the holiday season, and increased digital fulfillment costs will likely take a toll on its profitability. However, the focus on cost-saving measures is expected to partially offset the negatives stemming from higher fulfillment charges.
EBIT margins also remained low
Target's EBIT (earnings before interest and tax) margins fell by 120 basis points to 5.2% in fiscal 3Q17, which reflected lower gross margins and increased SG&A (selling, general and administrative) expenses as a percentage of sales. During the reported quarter, Target's SG&A expense rate rose by 80 basis points to 21.1%. The higher depreciation and amortization rate also pressured the EBIT margins.
Given the challenges and increased investments, Target expects its EBIT to fall by $290 million on a year-over-year basis in the fourth quarter. A rise in the wage rates and higher team member incentives are expected to remain a drag.