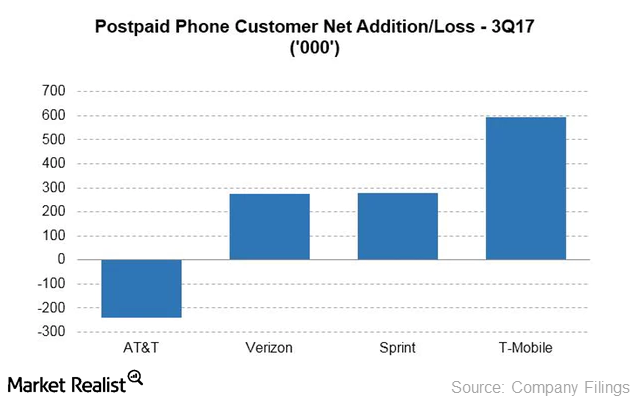 T-Mobile Stock Fell 5.5% Yesterday as Sprint Merger Talks End
T-Mobile's 5.5% fall
The stock of telecom (telecommunications) company T-Mobile (TMUS) fell more than 5.5% on Monday, November 6, 2017, closing at $55.54. In the previous part of this series, we saw that Sprint (S) stock also fell yesterday by 11% after merger talks with T-Mobile were called off. T-Mobile stock has generated returns of -11% in the trailing one-month period, -6.7% in the last five trading days, and 12.5% over the last year. Peer companies Sprint, Verizon (VZ), and AT&T (T) have generated returns of -3.8%, -3.3%, and -10% in the trailing 12-month period.
Article continues below advertisement
Last month, a Nikkei Asian Review report stated that merger talks between Softbank Group (of which Sprint is a subsidiary) and T-Mobile have come to a standstill due to differences over the ownership of the combined entity. While T-Mobile's parent company Deutsche Telekom is eyeing a controlling stake after the merger, Softbank is unwilling to give up control of Sprint.
Increase in T-Mobile's volume traded
T-Mobile saw a significant spike in the number of trades on November 6, 2017. Over 16.9 million shares were traded yesterday compared to the average volume of 4.3 million shares in the last month.
In 3Q17, T-Mobile led its peers in terms of postpaid net additions. In the quarter that ended in September 2017, T-Mobile added more than a million customers for the 18th consecutive quarter. It currently has more than 70 million customers.