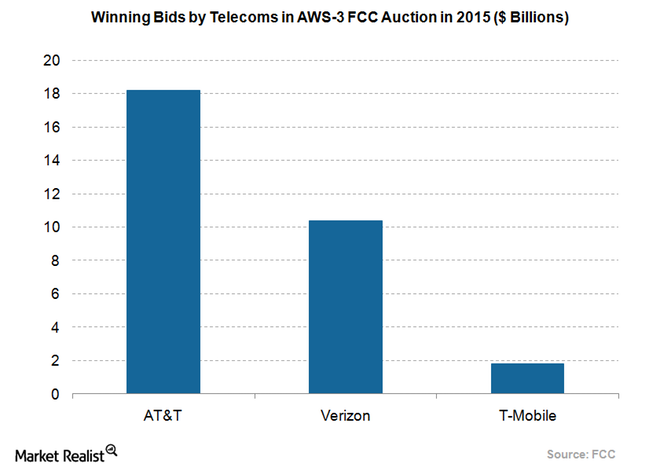 Where T-Mobile Stands in the 5G Race
T-Mobile on 5G plans
T-Mobile (TMUS) has been focusing on its 5G (fifth-generation) technology because it anticipates that its 5G services will provide ten to 100 times faster wireless data speeds than 4G (fourth-generation) technology. The telecom company is evaluating its future opportunities as well as the restrictions of 5G technology, which densifies the network with small cells.
T-Mobile's management recently highlighted that the company will deploy 5G service nationwide between 2019 and 2020 and will leverage significant chunk of its 600 MHz (megahertz) low-band airwaves that it procured during the FCC's (Federal Communications Commission) broadcast incentive auction earlier this year. This is a highly competitive goal that T-Mobile has set for itself.
Article continues below advertisement
Taking alternative routes to 5G
T-Mobile's two larger competitors, AT&T (T) and Verizon Communications (VZ), are also investing in 5G networks, helped by telecom equipment vendors like Nokia (NOK), Intel (INTC), and Ericsson (ERIC). While AT&T and Verizon have preferred a patched rollout, indicating denser urban markets for their 5G networks, T-Mobile is pursuing nationwide 5G coverage.
AT&T is an aggressive competitor in the 5G space and has tried to outbid its rivals in order to gain a spectrum advantage in the past. During the AWS-3 spectrum auction held in early 2015, AT&T made the highest bid to procure spectrum worth $18.2 billion.
By comparison, Verizon procured spectrum amounting to $10.4 billion, while T-Mobile procured spectrum amounting to $1.8 billion.