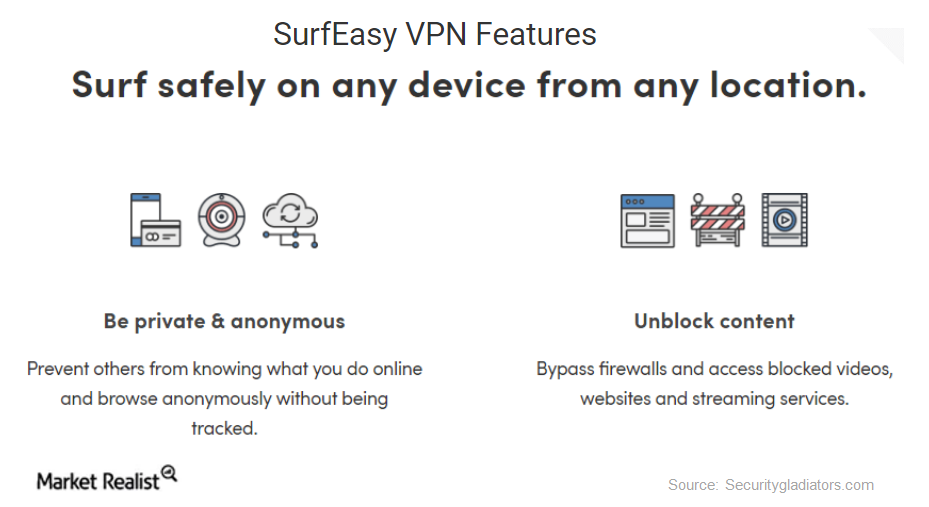 How SurfEasy Could Benefit Symantec's Consumer Segment
SurfEasy acquisition
Previously, we discussed Symantec's (SYMC) acquisition announcement of SurfEasy. After the acquisition, Symantec aims to integrate SurfEasy into its Consumer Digital Safety segment, which includes Norton and LifeLock. SurfEasy's VPN (virtual private network) service will add privacy, information, and identity protection to Symantec's digital safety offerings. Prior to its acquisition, SurfEasy was an OEM (original equipment manufacturer) for Symantec, powering its Norton Wi-Fi VPN product.

Article continues below advertisement
Norton Wi-Fi VPN in fiscal 2Q18
In Symantec's fiscal 2Q18 earnings release, CEO Greg Clark highlighted that the Norton Wi-Fi VPN product saw "strong momentum" after the revelation of KRACK (key reinstallation attack" vulnerability in Wi-Fi protocol last month, highlighting the importance of VPNs in digital safety.
Symantec highlighted growth in VPN offerings, stating that "the spike in the VPN product is also very, very substantial and that product is a strong product, it's a $30 to $50 a year adder, and we're seeing that at very powerful growth rates as well."
The Norton Core Wi-Fi router, unveiled earlier this year, marked the company's foray into the hardware space and brought Internet security to the router level. It connects with personal computers and smartphones across different platforms, ensuring their safety. If an infected device is connected to the router, it is cut off from other devices on the network.