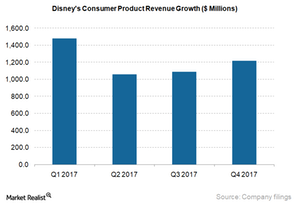 Strong Movie Pipeline to Boost Disney's Consumer Products Unit
Consumer Products and Interactive Media
The Walt Disney Company's (DIS) Consumer Products and Interactive Media (or DCPI) segment, which drives its top-line growth and connects customers with the company's brand, is expected to get a boost in the upcoming quarters with the release of new movies. Although the segment contributes just ~9% of the company's total revenue, it forms an integral part of the company's business.
Article continues below advertisement
Movie pipeline to drive business
As shown in the graph above, the company's DCPI segment has remained soft in the last five quarters. However, things might change with the release of the new movies. Marvel's Thor: Ragnarok made a strong debut at the box office, with an overall collection of more than $500 million. Its huge popularity may drive the company's Marvel merchandise sales, thereby contributing to growth in the DCPI segment.
Moreover, Disney will end the year with one of the most anticipated movies of the year, Star Wars: The Last Jedi, slated for release next month. The new Lucasfilm flick may boost the DCPI segment in fiscal 2017, and its success could be carried into next year as well. In May 2018, the company's merchandise division will get a huge boost with the release of Avengers: Infinity War, which is believed to be one of Marvel's most expensive projects yet.
Earlier this year, the company benefited from Columbia Pictures' (SNE) film, Spider-Man: Homecoming. Mickey Mouse's 90th birthday celebration and the launch of Frozen on Broadway may further boost the DCPI segment.