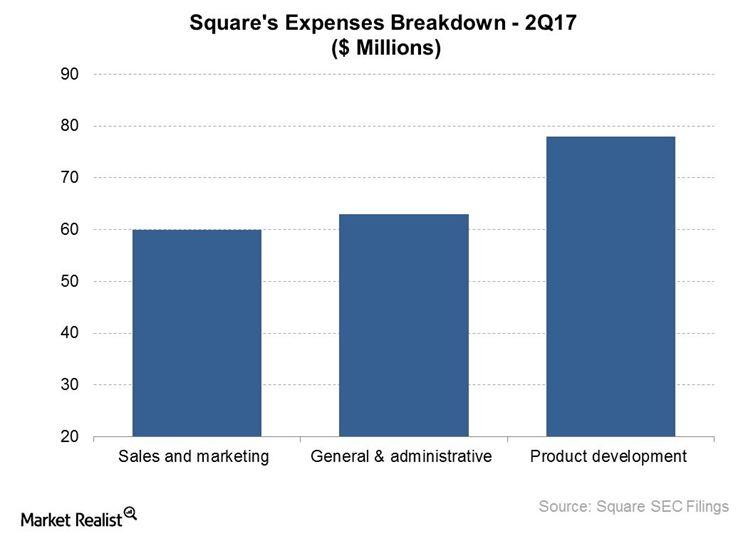 Square's Cost Structure and What to Expect from 3Q17
Loss narrowed in 2Q17
Square (SQ) isn't profitable yet on a GAAP (generally accepted accounting principles) basis. But the company posted a smaller net loss in 2Q17 than it did in 2Q16. A net loss of $16 million in 2Q17 compared with a loss of $27.3 million in 2Q16.
The lower loss was mainly due to revenue growth as most of Square's expenses rose year-over-year. Square reported revenue of $552 million in 2Q17, up 26% year-over-year.
Article continues below advertisement
Hiring and international expansion drove expenses
Square's operating expenses, excluding cost of revenue, were $220 million in 2Q17—up 25% over 2Q16. Personnel hiring, marketing spending, and costs tied to international expansion were largely responsible for the rise in Square's expenses. Square's product development expenses rose 14% year-over-year to $78 million, driven by personnel costs in the engineering, product, and design departments.
Sales and marketing expenses jumped 53% year-over-year to $60 million, driven primarily by costs tied to marketing campaigns and international expansion. In addition to the United States (SPY), Square is now available in several overseas markets—including Canada, Australia, the United Kingdom (EWU), and Japan (EWJ).
Costs could rise due to expansion and innovation
Since Square remains in expansion mode and is also active on the innovation front, its marketing and product development expenses are worth watching closely. PayPal (PYPL), one of Square's payments rivals, invested $240 million in product development in 3Q17—up from $215 million committed to a similar course a year earlier. PayPal's revenue grew 21% year-over-year in 3Q17.