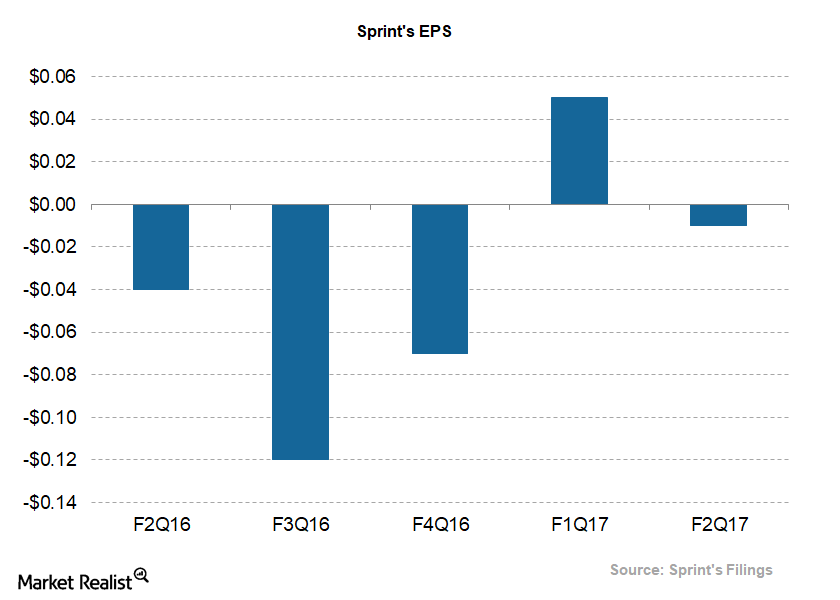 Why Sprint's Cost Reduction Initiatives Are Paying Off
Cost cutting to combat losses
By subscriber count, Sprint (S) remains the fourth-largest telecom company in the US wireless market. However, its significant cost-cutting initiatives and the shift away from a traditional subsidy model have contributed to its turnaround efforts. In fiscal 2Q17 (ended September 2017), Sprint realized ~$400 million in net cost reductions. The carrier eliminated $2.1 billion in costs during fiscal 2016. These reductions in costs are particularly important for Sprint, considering that it continues to generate losses on an adjusted basis.
In fiscal 2Q17, Sprint reported a net loss of $48 million, compared with a net loss of $142 million in fiscal 2Q16. The company reported EPS (earnings per share) of -$0.01 in fiscal 2Q17, a significant improvement from the year prior, when it had EPS -$0.04.
Sprint continues to expect an additional $1.3 billion–$1.5 billion in net cost reductions during fiscal 2017. With more than $750 million saved so far, the telecom company is halfway to meeting its high-end cost-reduction target for fiscal 2017.
Article continues below advertisement
Highest second-quarter earnings in a decade
Sprint reported adjusted EBITDA (earnings before interest, tax, depreciation, and amortization) of $2.7 billion in fiscal 2Q17, its highest quarterly adjusted EBITDA in a fiscal second quarter in a decade. Also, Sprint showed no signs of slowing down, with 279,000 postpaid phone net customer additions in fiscal 2Q17, marking a ninth consecutive quarter of net additions. Meanwhile, Verizon (VZ) and T-Mobile (TMUS) added 274,000 and 595,000 postpaid phone net customers, respectively, in calendar 3Q17, and AT&T (T) lost 97,000 postpaid phone subscribers.