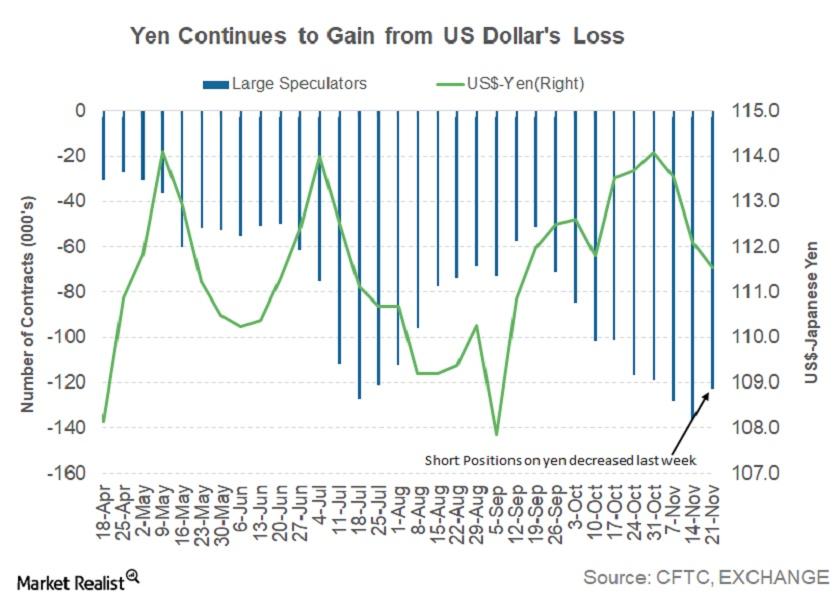 How Speculators Are Reacting to a Rising Japanese Yen
Japanese yen continues to gain from the dollar's weakness
Last week, the Japanese yen (JYN) gained for the third consecutive week against the US dollar. There were no major positive economic data from Japan, but the US dollar's weakness aided the Japanese yen. Demand for the Japanese yen increases in times of risk aversion, but last week's demand was most likely due to the dollar's weakness. For the week ended November 24, 2017, the Japanese yen (FXY) closed at 111.55 against the US dollar (UUP), appreciating 0.47%.
Article continues below advertisement
The Japanese equity markets (EWJ) returned to positive territory with the Nikkei 225 Index (JPXN) posting a weekly gain of 0.69% for the week ended November 24, 2017. The index had ten positive weekly closes in the last 11 weeks. A continued appreciation of the yen, however, could limit gains in the Japanese indexes this week.
Speculators decreased bearish bets on the yen
Japanese yen (YCL) speculators decreased their net short positions on the yen, according to the latest Commitment of Traders (or COT) report released on November 27, 2017, by the Chicago Futures Trading Commission. As of Tuesday, November 21, 2017, speculators for the Japanese yen had a net short position of 122,602 contracts compared to 135,999 short contracts in the previous week. If the weakness of the US dollar continues this week, there could be a further reduction in short positions against the yen.
Week ahead for the Japanese yen
The important Japanese inflation data for October are scheduled to be reported on Friday, December 1, 2017. Although inflation has been increasing, it was primarily due to energy prices. Retail sales and household spending data are due to be reported this week and should give us an indication of private consumption. A positive reading in this week's economic data, coupled with the US dollar weakness, could drive the Japanese yen to appreciate further this week.