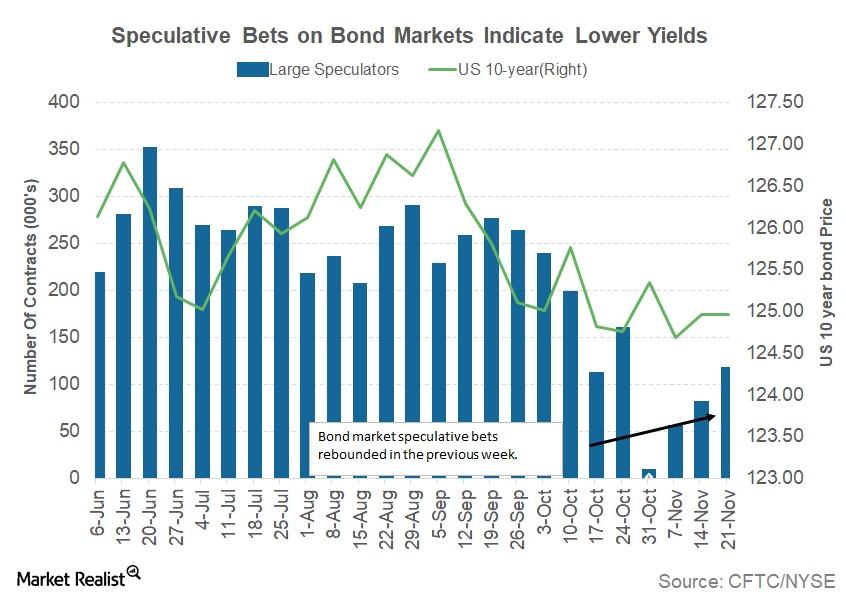 What Do Speculator Positions Tell Us about the Bond Markets?
Yield curve flattening leaves investors anxious
The flattening of the US yield curve continued to keep bond market (BND) investors anxious last week. The key development that led to a further flattening of the yield curve was the dovish tone of the FOMC (Federal Open Market Committee) meeting minutes released last week. According to the November meeting minutes, some of the FOMC policymakers weren't satisfied with the level of inflation. That led to further suppression of the longer-term yields while the short-term yields remained stable, resulting in a further flattening of the yield curve. An inverted yield curve is a warning sign of a recession, which is why the market gets nervous when the yield curve begins to flatten.
Article continues below advertisement
Bond market performance and speculator positions
For the week ended November 24, 2017, the ten-year yield (IEF) remained unchanged at 2.34%. The two-year yield (SHY) closed at 1.74, a rise of 2 bps (basis points), and the longer term 30-year yield (TLT) closed at 2.76, a fall of 2 bps from the previous week.
According to the latest Commitment of Traders (or COT) report released on November 27, 2017, by the Chicago Futures Trading Commission, speculator long positions increased for the third consecutive week. The total net bullish positions as of Tuesday, November 21, 2017, increased to 111,080 contracts compared to 74,836 the week before. An increase in speculator positions is a signal that a further fall in yields is expected.
The week ahead for bond markets
This week, US economic data remain light, with PCE (personal consumption expenditure) inflation the only important data to be reported. The Fed takes PCE inflation into account when considering changes to monetary policy. This week's data probably won't alter the Fed's December rate hike decision. Major moves in the bond (AGG) market could be ruled out, but any developments on the tax reform front could help push falling yields a little higher.
In the next part of this series, we'll look at the reasons behind the sharp rise in the European currency.