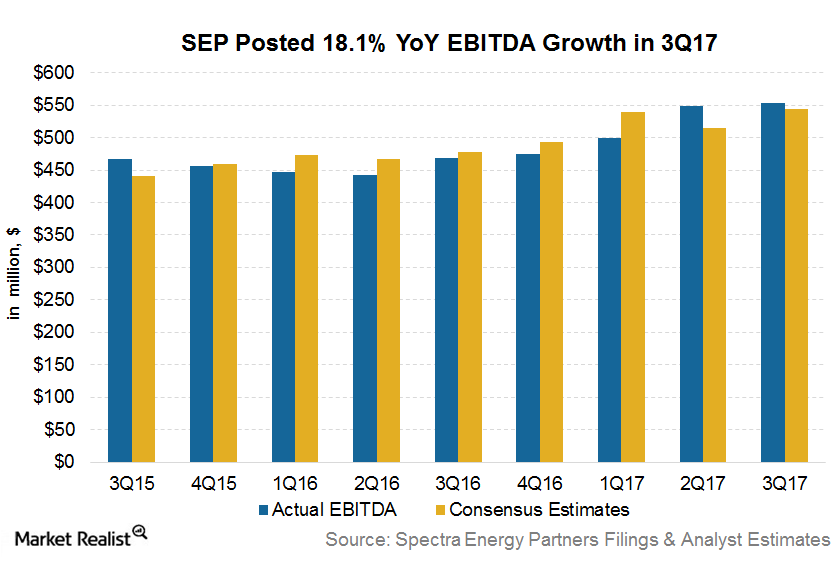 Spectra Energy Partners Posts Strong 3Q17 Results
Earnings in 3Q17
In 3Q17, Spectra Energy Partners (SEP), which is mainly involved in natural gas and NGL (natural gas liquid) transportation and storage, posted strong 10.4% and 18.1% YoY revenue and EBITDA (earnings before interest, tax, depreciation, and amortization) growth, respectively. Moreover, SEP, which is now owned by Enbridge (ENB), beat its 3Q17 EBITDA estimate by 1.7%.
SEP's strong YoY EBITDA growth in the third quarter was mainly driven by recent expansion projects placed into service, including the Sabal Trail project. According to SEP president Bill Yardley, "We are on track to place more than $2 billion of projects into service in 2017 which will support our continued stable cash flow generation for investors."
Article continues below advertisement
Distribution in 3Q17
SEP announced distribution per unit of $0.73 in 3Q17, which represents a rise of 7.4% from 3Q16 and 1.8% from 2Q17. SEP saw its 40th consecutive quarter of distribution growth in 3Q17. Based on its recent distribution, SEP is trading at an attractive distribution yield of 7.0%. Despite the distribution growth, SEP continued to cover its distribution in the third quarter, due to its strong 27.2% YoY (year-over-year) distributable cash flow growth. SEP expects to end 2017 with a distribution coverage of 1.05x–1.15x.
Analysts' recommendations
Goldman Sachs last downgraded SEP to "sell" from "neutral" in October 2017, SEP's only rating update in 2017. Of the analysts covering Spectra Energy Partners, 62.5% had recommended "buy," 25.0% had recommended "hold," and the remaining 12.5% had recommended "sell" as of November 8, 2017. SEP's average target price of $49.70 implies an 18.3% return based on its current price.