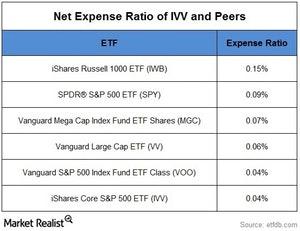 What Sets the iShares Core S&P 500 ETF Apart
The differentiating factor
This fund generates additional income through reinvestment of dividends via derivatives and portfolio sampling strategies. The fund reinvests distributions back into the components of the S&P 500, resulting in better returns. This is one feature that differentiates it from some of its competitors. Other ETFs, such as SPY follows a UIT (unit investment trust) structure, which can be more restrictive than the open-ended structure IVV follows.
However, one downside is that reinvestment of dividends can be detrimental when markets are tumbling.
Article continues below advertisement
Lower expense ratio than peers
The expense ratio for an ETF is the annual fee all shareholders have to pay. It includes all fund expenses, like management, operating, administrative, compliance, marketing, and record-keeping fees as well as all other expenses the fund bears. An expense ratio helps differentiate the performance of ETFs and the underlying index. A higher expense ratio could weigh in on the fund's returns.
If you look at the chart above, you can see that IVV has the lowest expense ratio compared to its peers that also invest in large- and mid-cap US stocks. Compared to VOO and SPY, IVV tracks the benchmark index pretty well while charging a small fee. Although the Vanguard S&P 500 Index Fund ETF Class (VOO) has the same expense ratio as IVV, the differentiating factor is that IVV discloses its daily position, unlike VOO.
Besides the expense ratio, it's also essential for investors to pay attention to the taxes, risks, and volatility associated with the fund as well as transaction fees, brokerage fees, and sales charges.
In the next two parts of this series, we'll see how and why the iShares Core S&P 500 ETF has been performing so well this year.