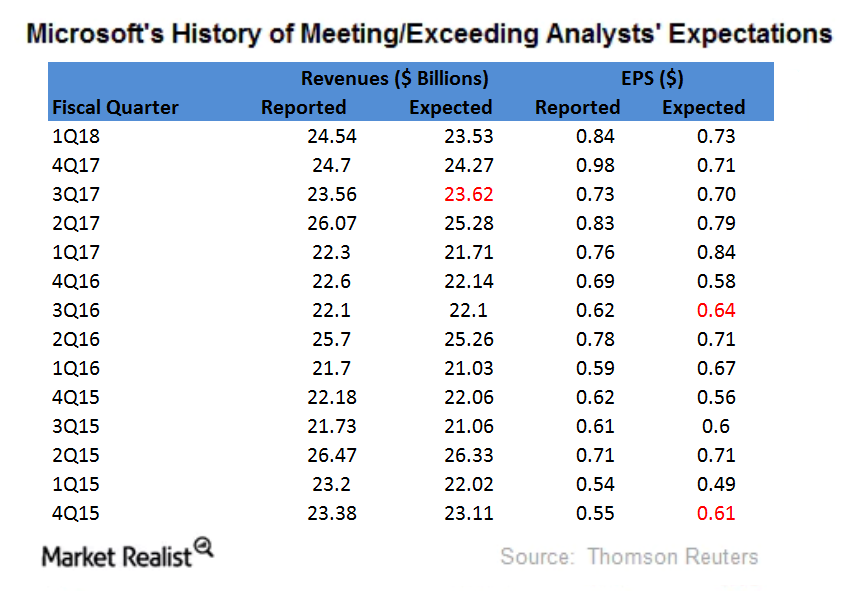 Why Microsoft Stock Breached $82 after Its Fiscal 1Q18 Earnings
Microsoft's fiscal 1Q18 results exceeded estimates
Microsoft (MSFT) announced its fiscal 1Q18[1. fiscal 1Q18 ended September 30, 2017] earnings on October 26, 2017. Microsoft's revenues of ~$24.5 billion and non-GAAP[2. generally accepted accounting principles] EPS (earnings per share) of $0.84 beat analyst estimates by $980.0 million and $0.12, respectively, in fiscal 1Q18.

As has been the trend for some time, Microsoft's fiscal 1Q18 results exceeded analysts' expectations. In the last 14 quarters, including fiscal 1Q18, Microsoft's quarterly revenues failed to meet analyst expectations only once, as the chart above shows. In the case of its earnings, this has happened only twice.
Article continues below advertisement
Microsoft's stock hit all-time high
Microsoft's revenues and EPS in fiscal 1Q18 posted 12.0% and 16.0% growth, respectively, on the back of consistent double-digit growth in its two main segments. The company's Productivity and Business Processes segments reported 28.0% and ~14.0% growth, respectively.
These segments include MS Office and Dynamics offerings, and its Intelligent Cloud segment benefits from Azure's contribution.
Microsoft's MPC (More Personal Computing) segment reported nearly flat revenues in fiscal 1Q18, reporting a fall of 0.2%.
Microsoft's increased initiatives in the cloud built up the positive sentiment around the company's stock, which enabled it to recently cross the $600 billion mark.
After the announcement of its fiscal 1Q18 earnings on October 26, Microsoft stock hit a new high. As its earnings exceeded Wall Street analysts' estimates by a wide margin, its stock rose above $80 price levels.
On October 26, Microsoft stock reached ~$82.05 and recorded its biggest one-day gain in the last two years.