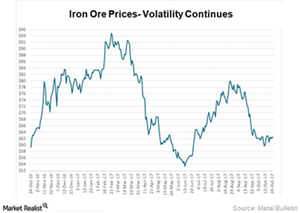 Seaborne Iron Ore Prices Remain Volatile, Impacting Cleveland-Cliffs
Volatility in iron ore prices
The benchmark iron ore prices have been quite volatile in 2017. After scaling the peak of $95.00 per ton in February 2017 and plumbing the depths of $53.00 per ton in July 2017, the prices are back in the range of $60.00–$65.00 per ton.
The steel capacity cuts planned in China for the winter months impacted the iron ore prices. The most recent economic data out of China is also disappointing.
The readings for fixed-asset investment, retail growth, and industrial production were below market expectations. This caused commodities (COMT), including iron ore, to tumble.
Article continues below advertisement
Iron ore miners' performance
Iron ore miners were also impacted by the volatility seen in iron ore prices. However, most of the big iron ore miners such as BHP (BHP), Rio Tinto (RIO), and Vale SA (VALE) are still quite profitable at current iron ore prices.
Year-to-date (or YTD), these three miners have gained 18.3%, 28.3%, and 32.6%, respectively, through November 8, 2017.
Cleveland-Cliffs (CLF), on the other hand, has fallen 27.7%. Its share price is also impacted by other factors in addition to seaborne iron prices.
The domestic US steel market dynamics play a more important role in determining Cleveland-Cliffs' stock price performance. Also, CLF downgraded its volume guidance for 2017 during its 3Q17 results. This also disappointed investors, further deepening the losses for the stock.
Factors impacting CLF
While Cleveland-Cliffs is affected by different factors than its seaborne peers (XME), its stock price still takes strong cues from iron ore prices.
In the rest of this series, we'll discuss factors affecting seaborne iron ore prices and gauge the outlook for iron ore prices. These factors could help investors understand Cleveland-Cliffs' future stock price direction.