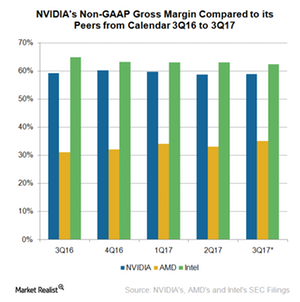 Is There Scope for NVIDIA's Profit Margins to Grow Further?
What's behind NVIDIA's high profit margins?
NVIDIA (NVDA) has been hitting new revenue records for the past four quarters and is expected to report another quarter of record revenue in fiscal 3Q18. The company's platform model has helped it realize better returns on investment, which has increased its profit margins and brought it closer to Intel (INTC).
Under the platform model, NVIDIA spends most of its efforts and money on developing general purpose GPU (graphics processing unit) architecture like Pascal and Volta and then leverages it across various platforms such as Geforce for gaming, Tesla for data center, Quadro for professional visualization, and DRIVE PX for automotive. Every platform commands a different price.
Article continues below advertisement
Gross margin
NVIDIA gets its GPUs manufactured from is foundry partner TSMC (TSM), which deducts a certain percentage of profit. On the other hand, rival Intel manufactures its chips in-house, which improves its profit percentage.
For fiscal 3Q18, NVIDIA expects to maintain its non-GAAP (generally accepted accounting principles) gross margin at around 59%. The company is coming closer to Intel's gross margin of 62.3% as the former moves to a smaller node that reduces cost. With Volta, NVIDIA has shifted to a 10-nm (nanometer) node. The cost benefit from this node could help NVIDIA increase its gross margin above 60% in the coming quarters.
Operating margin
While NVIDIA's gross margin is growing, so is its operating expense. The company's operating expense has risen sequentially between 3% and 4%, but in fiscal 3Q, it rose around 7% as the company revises employee compensation.
For fiscal 3Q18, NVIDIA expects its non-GAAP operating expense to rise 7% sequentially to $570 million. NVIDIA and Advanced Micro Devices (AMD) are increasing their expenses, while Intel is reducing its operating expense.
NVIDIA's non-GAAP operating margin is expected to rise from 34.7% in fiscal 2Q18 to 36% in fiscal 3Q18, surpassing Intel, which has an operating margin of 31.7%. This is because NVIDIA's revenue is growing faster than its expense.
EPS
The impact of strong revenue could be felt on the bottom line as well. Analysts expect NVIDIA's non-GAAP EPS (earnings per share) to fall 7% sequentially to $0.94 in fiscal 3Q18. However, the company has been beating analysts' EPS estimate for the past eight quarters by an average of 36%. It's likely to maintain a similar trend and post EPS of $1.28 in fiscal 3Q18, representing sequential growth of 27%.
NVIDIA's main source of earnings is its most advanced GPUs. Next, we'll look at the performance of its products in fiscal 2018.