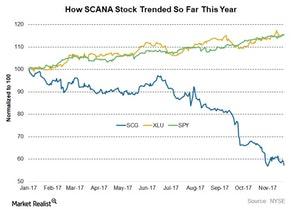 SCANA Shareholders' Woes Got Magnified Recently
S&P 500's top loser 
There seems to be no respite for SCANA (SCG) investors. Recently, SCANA stock continued to trade weak. It's one of the top losers among the S&P 500 (SPX-INDEX) (SPY). So far, it has lost more than 40% this year, while broader utilities (XLU) managed to gain ~15% during the same period.
According to SCANA's filing on November 16, 2017, the utility has proposed $4.8 billion in benefits to South Carolina Gas & Electric Company customers—SCANA's principal subsidiary. The utility plans to reduce its residential electric rates to where they would have been in 2015. The monthly bill of a customer using 1,000 kilowatt hours of electricity would fall by more than $5. SCANA is facing a criminal investigation about its electric rates in 2015 as a part of the plant's rate recovery.
The proposition is damage control after SCANA received huge criticism from state authorities about its dubious rate recovery of the now abandoned V.C. Summer nuclear power plant.
Article continues below advertisement
Long-term burn for SCANA investors?
The filing also states that SCANA's shareholders will absorb the net nuclear construction costs through lower earnings over 50 years. South Carolina Electric & Gas has entered into an agreement to buy a 540-megawatt gas-fired power plant from Columbia Energy for $180 million. SCANA shareholders will absorb the acquisition cost. SCANA stock has corrected nearly 7% since November 16, 2017.
SCANA's profits fell 82% year-over-year in 3Q17. It reported an impairment loss of $210 million associated with its nuclear power plant.