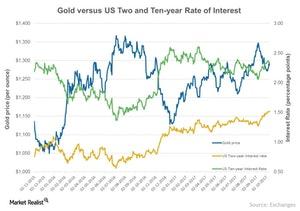 Rising Yield's Impact on Gold
Yields versus gold
Gold futures for December delivery were down yesterday, touching the day's low of $1,269.7 per ounce and ending the day at $1,282.9 per ounce. Call-implied volatility in gold was 9.3%. Call-implied volatility measures fluctuations in the price of an asset, given the changes in the price of the call option. Silver also joined gold's league and rose 0.15%. Platinum and palladium were trading low for the day, falling 0.87% and 0.42%, respectively.
Article continues below advertisement
Investors could expect gold prices to fall. Higher bond yields usually mean negativity for non–yield-bearing assets. The US Treasury two-year note's yield hit a nine-year high on November 13 as the yield curve resumed its flattening. Market participants are also likely pricing in the probability of a 25 basis point interest rate hike by the Federal Reserve in December.
ECB conference
The chart above compares the price performance for gold (GLD) versus US two- and ten-year interest rates (SHY)(IEF). Though there's no exact inverse relationship between the two, it's likely that a surge of interest rates would curb the appeal of assets that don't provide any intermediary cash flow.
Investors are also keeping a close eye on the conference hosted in Frankfurt by the European Central Bank or ECB, where Chief Mario Draghi, US Federal Reserve Chair Janet Yellen, Bank of Japan Governor Haruhiko Kuroda, and Bank of England head Mark Carney will form an all-star panel. Vital economic decisions from major world powers also tend to move gold.
The mining stocks that saw a down-day on Tuesday include Yamana Gold (AUY), Coeur Mining (CDE), Goldcorp (GG), and Royal Gold (RGLD), which fell 3%, 1.3%, 0.15%, and 0.5%.