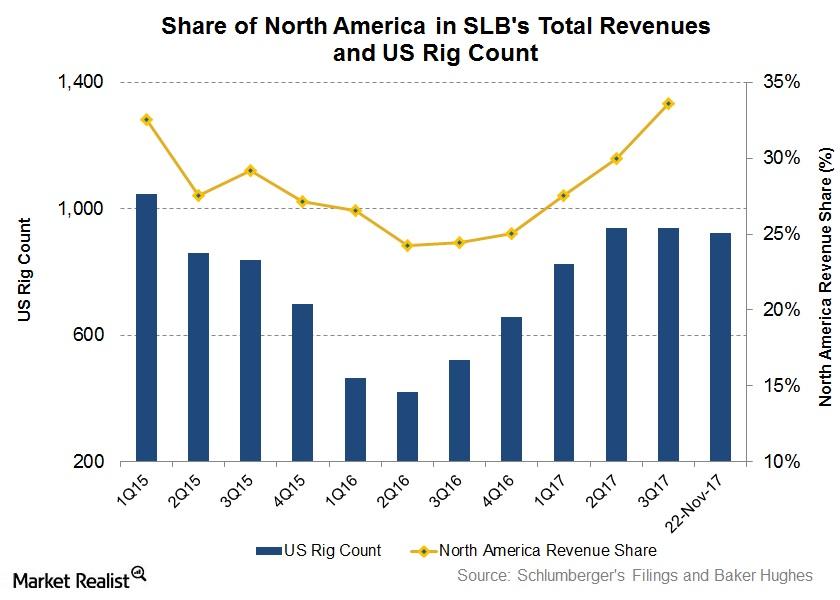 Rising Rig Count Could Add to Schlumberger's Tally
Schlumberger's geographic revenue share
In 3Q17, Schlumberger's (SLB) North America region's revenue share rose to ~34% of Schlumberger's total revenues—compared to 24% in 4Q16. In the past three quarters, Schlumberger has been shifting its focus back to North America following its effort to diversify internationally in 2016. Schlumberger generated 66% of its total revenues from international operations in 3Q17. In comparison, Halliburton (HAL) generated 58% of its 3Q17 revenues in North America.
Article continues below advertisement
US rig count
The US rig count rose 80% in 3Q17—compared to the US rig count in 3Q16. As of the week ending November 22, 2017, the US rig count was 923—down 2% compared to the level on September 30, 2017. Growth in the US rig count could increase Schlumberger's revenues and earnings growth in 3Q17. Schlumberger accounts for 0.38% of the SPDR S&P 500 ETF (SPY). SPY tracks the price and yield performance of the S&P 500 Index (SPX-INDEX). The SPX-INDEX has risen 18% in the past year—compared to a 24% fall in Schlumberger's stock price.
International rig count
The international rig count rose 2% in October 2017—compared to September 2017. In October, the international rig count was also 3% higher—compared to the same period in 2016.
Next, we'll discuss Schlumberger's indebtedness.