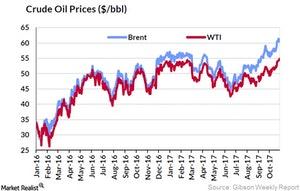 How Rig Count and Oil Prices Trended Last Week
Rig count
The US offshore rig count for the week ending November 10, 2017, was 18, unchanged from the previous week. The rig count was lower by three rigs compared to the same period last year. A falling rig count suggests that the offshore drilling (IYE) industry is still struggling. It suggests a bleak outlook for companies like Ensco (ESV), Rowan Companies (RDC), Transocean (RIG), and Diamond Offshore (DO).
The total US rig count (oil and natural gas rigs) was 907 for the week ending November 10, nine higher than in the previous week. The count was significantly higher than the 568 rigs reported for the same period last year. The total US oil rigs recorded were 738, up nine from the previous week.
Article continues below advertisement
Oil prices
Brent crude oil prices rose to $63.9 per barrel on November 10, 2017, from $60.62 per barrel in the previous week. Crude oil prices rose from the previous week. The prices jumped to their highest level in the last two and half years. The previous week's spike in prices occurred on the back of the corruption crackdown in Saudi Arabia, which raised concerns about instability in the country. Also, according to Reuters, Saudi Arabia plans to cut crude oil exports in December.
On Monday, November 13, 2017, OPEC (Organization of the Petroleum Exporting Countries) and other non-OPEC members planned to extend oil production cuts through 2018. Earlier, in its monthly report, OPEC had cut its 2018 supply estimates. Reduced supply and an increase in demand at the same time would likely boost oil prices.
To know more about how rig count and oil prices are connected, read Market Realist's article, how oil prices and rig count go hand in hand.
For more updates from the offshore drilling space, visit Market Realist's offshore drilling page.