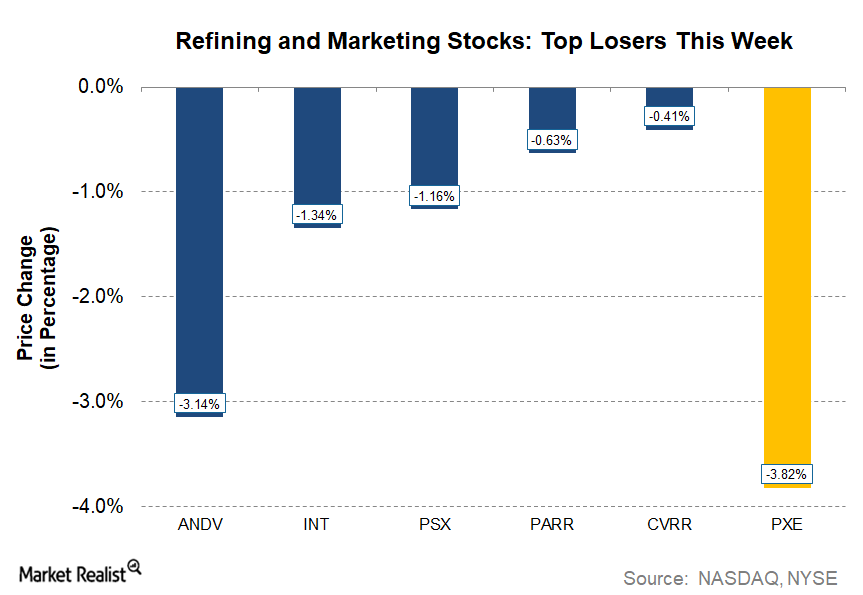 Refining and Marketing Losers: ANDV, INT, PSX, PARR, and CVRR
By Nicholas Chapman

Nov. 16 2017, Updated 10:04 a.m. ET
Refining and marketing stocks
In this part, we'll discuss the top losing stocks this week from the oil and gas refining sector and the marketing sector in the US. To compile the list of the top oil and gas refining and marketing movers, we selected refining and marketing companies with market capitalizations of more than $100 million and a weekly average volume of more than 100,000 shares.
Article continues below advertisement
Refining and marketing losers
Andeavor (ANDV) is the biggest loser this week in the refining and marketing sector. It has fallen from last week's close of $107.20 to $103.83 on November 15—a fall of 3.1%.
Andeavor started to fall last Thursday after the company announced its 3Q17 earnings after the market closed on Wednesday. In 3Q17, Andeavor reported revenues of ~$9.84 billion—better than the Wall Street analysts' consensus of ~$9.57 billion. Andeavor missed the EPS estimates by $0.14 in 3Q17. It reported an adjusted profit of $2.87 per share, while Wall Street analysts' consensus was for profit of $3.01 per share. After the earnings were announced on Wednesday, Andeavor fell ~4% in one trading session on Thursday. Since its 3Q17 earnings were announced, Andeavor has fallen ~6% in five trading sessions.
On the list of losers from the refining and marketing sector, World Fuel Services (INT) is next. It has fallen 1.3% in the current week. While there isn't specific news on the stock this week, World Fuel Services stock is in a strong downtrend in 2017. World Fuel Services has fallen ~42% year-to-date. So, this week's move looks like an extension of the ongoing downtrend.
The other refining and marketing losers this week are Phillips 66 (PSX), Par Pacific Holdings (PARR), and CVR Refining (CVRR). These stocks have fallen 1.2%, 0.63%, and 0.41%, respectively, this week.
The PowerShares Dynamic Energy Exploration & Production Portfolio (PXE) has fallen 3.8% this week. PXE's top holdings include refining names like Marathon Petroleum (MPC) and Phillips 66.
In comparison, the SPDR S&P 500 ETF (SPY) has fallen 0.64% this week.