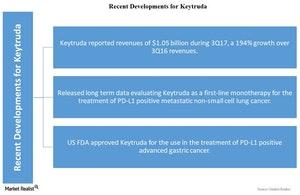 Recent Developments for Merck's Keytruda
By Mike Benson

Dec. 1 2017, Updated 9:03 a.m. ET
Keytruda
As we saw in the previous part of this series, Keytruda (pembrolizumab) is one of the blockbuster drugs for Merck & Co.'s (MRK) immuno-oncology portfolio and approved for seven indications to date. Keytruda sales increased ~194% in 3Q17 to ~$1.1 billion.
The approved indications include the use of Keytruda for the treatment of non-small cell lung cancer, advanced melanoma, squamous cell carcinoma of the head and neck, classical Hodgkin's lymphoma, advanced urothelial cancer, microsatellite instability-high cancer, and, most recently, advanced gastric cancer.
Article continues below advertisement
Recent developments
Let's look at the most recent developments for Keytruda.
On October 18, 2017, Merck & Co. released data for its Phase 3 KEYNOTE trial that evaluated Keytruda as a first-line monotherapy for the treatment of PD-L1 (programmed death-ligand 1) positive metastatic non-small cell lung cancer. The data included updated overall survival findings and was based on the follow-ups of more than two years. Here are some key findings:
Keytruda reduces the risk of death by 37% compared to chemotherapy.
Keytruda increased overall survival to 30 months, which is more than double the overall survival of 14.2 months in the case of chemotherapy.
On September 22, 2017, the FDA (U.S. Food & Drug Administration) approved Keytruda for use in the treatment of PD-L1 positive advanced gastric cancer. The approval was based on data from the KEYNOTE-059 trial, a global, multicenter, open-label multi-cohort study that evaluated the use of Keytruda in PD-L1 positive recurrent locally advanced or metastatic gastric cancer or gastroesophageal junction adenocarcinoma in patients reporting disease progression after two prior therapies, including platinum-based chemotherapy.
The Vanguard Healthcare ETF (VHT) holds 4.2% of its total investments in Merck & Co. (MRK), 5.8% in Pfizer (PFE), 2.8% in Bristol-Myers Squibb (BMY), and 4% in AbbVie (ABBV).