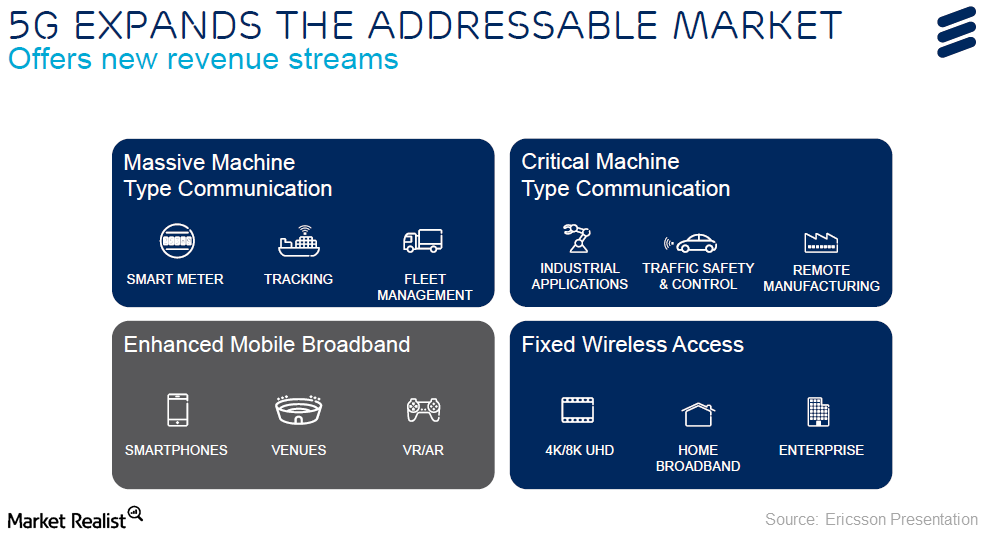 Reading Ericsson's Future Revenue Drivers
Digital experience
Ericsson (ERIC) is optimistic about the ability of virtualization and network automation to provide massive scale efficiencies. Similar to hardware peers Cisco Systems (CSCO), IBM (IBM), and Hewlett Packard Enterprise (HPE), Ericsson is looking to use artificial intelligence, cloud, and analytics to create a unique customer experience.
One of Ericsson's primary goals is to reduce lead time and increase its flexibility in launching services.
Article continues below advertisement
New revenue streams
Meanwhile, 5G technology is expected to be available in 2020 and could be a huge revenue driver for Ericsson. Developed economies in North America and Western Europe will be the first to adopt this technology.
Ericsson is also banking on IoT (Internet of Things) to drive future revenues, and mobile data is expected to rise significantly over the next few years.
Focused business strategy
Ericsson would also like to gain market share in the telecom equipment space by providing highly scalable, modular platforms that offer lower ownership costs and a better experience in 4G.
That said, analysts expect negative revenue growth for Ericsson over the next few years. Ericsson's revenues are estimated to fall 8.3% YoY (year-over-year) to $6.6 billion in 4Q17, 7.9% YoY to $24 billion in 2017, and 3.2% YoY to $23.2 billion in 2018.