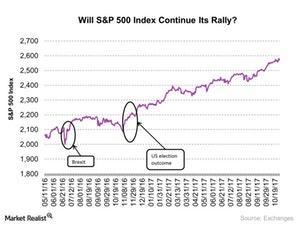 Ray Dalio: 'We've Been Long Equity Markets'
Ray Dalio in an interview with Bloomberg Radio
On Thursday, October 26, 2017, legendary investor and prominent hedge fund manager Ray Dalio shared his views on the equity market (SPY) and the bond market (BND) in an interview with Bloomberg Radio.
Article continues below advertisement
Dalio on the equity market
Dalio's Bridgewater Associates is the world's largest hedge fund by asset size. It manages nearly $160 billion. When asked in the interview whether he foresees a bear market, he replied, "No. We've been long equity markets."
In the present scenario, the monetary policy environment is changing. From the easy monetary policy environment in 2008, central banks are now moving toward hiking the key interest rate. That shift in monetary policy could increase the risk in the present environment. The risk could hamper the performance of the bond market (SHY) (TLT) in the near future.
The equity market might continue its stronger performance with the improvement in its earnings growth. The proposed tax reform is also expected to boost the performance of the equity market. Since the bond market performance is expected to be hampered in the near future, investors could look to the equity market.
The broader market S&P 500 index (SPY) rose 15.8% on a year-to-date basis as of November 8, 2017. The stronger performance of the S&P 500 index (IWM) is mainly driven by the improvement in earnings in the last three quarters and improvement in various fundamental factors such as business confidence and consumer confidence.
In the next part of this series, we'll look at Dalio's view on the bond market.