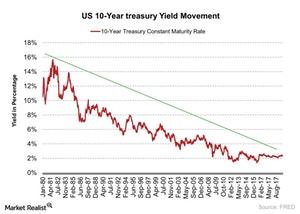 Why Ray Dalio Sees 'Significant' Risk in the Bond Market
Ray Dalio on the bond market
In the previous part of this series, we saw that we're in a transitioning environment where the central bank is moving from an easy monetary policy environment toward a tightening of its key interest rate. If this tightening is more aggressive, it could increase the risk for the bond market (TLT) (SHY).
Article continues below advertisement
A new environment
Dalio said, "From 2008 until 2017 we were in a certain type of environment. We are now in a transition, a whole new different environment. That's the equivalent of entering the late stage of the cycle. That's when there is a tightening. Tightenings become progressively more concerning.… It looks to me there is a significant amount of risk in the bond market."
The proposed lowering of both the corporate tax rate and the individual tax rate could help consumers and corporations spend more, which could boost consumer activity and business activity. These could be positive growth drivers for the economy (SPY) (QQQ).
However, lowering the corporate tax rate could also increase a fiscal deficit since it could affect the government's revenue side. The higher deficit generally pushes bond yields higher and could drag down bond prices since both bond prices and yields move in opposite directions.
In the next part of this series, we'll analyze Dalio's largest holdings as of June 30, 2017.