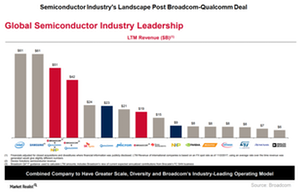 Qualcomm's Rejection of Broadcom's Takeover Bid: The End or the Beginning?
Technology industry witnesses its biggest acquisition offer
The technology industry is witnessing a fourth technology shift toward AI (artificial intelligence) and IoT (Internet of things). This shift is bringing some really big surprises for tech investors (QQQ).
On November 6, 2017, Broadcom (AVGO), the sixth-largest semiconductor company by revenues, offered to acquire Qualcomm (QCOM), the fourth-largest semiconductor company, for $105 billion, or $70 per Qualcomm share. This was the biggest technology acquisition offer of all time, dwarfing the Dell-EMC deal of $67 billion.
Article continues below advertisement
In just one week, Qualcomm's board rejected the $70-per-share offer on the grounds that it significantly undervalued the company and came with regulatory uncertainty. If the deal were to have happened, the combined company would have become the third-largest semiconductor company by revenues, with annual sales of ~$51 billion.
It's no surprise, however, that Qualcomm rejected the offer because it was a hostile bid, and Broadcom is in the midst of a deal with NXP Semiconductors (NXPI), its biggest acquisition to date.
Broadcom responds to Qualcomm's reaction
But it appears that Broadcom isn't quite ready to walk away. Within a few hours of the rejection, Broadcom responded that it would be committed to acquiring Qualcomm and that the latter's shareholders are interested in discussing the deal. Now, it looks as if Broadcom was prepared for the rejection and has already planned its next step.
Analyst thoughts on Broadcom's next move
Qualcomm's rejection is not the end of this deal, and it looks to be only the beginning of the tech industry's biggest hostile takeover ever. Many analysts have noted that Broadcom's determination to acquire Qualcomm could see the former make some hostile moves. Broadcom could use a three-step approach:
It can raise its bid price to $80 or $90 per Qualcomm share.
It could nominate its directors to Qualcomm's board and start a proxy fight.
It could launch a hostile exchange offer wherein it directly approaches Qualcomm's shareholders and buys their shares.
In this series, we'll look at the stalled deal from the aspect of management, shareholders, customers, competitors, regulators, and suppliers. We'll also look at the possibility of this deal materializing, albeit in another form, down the road.