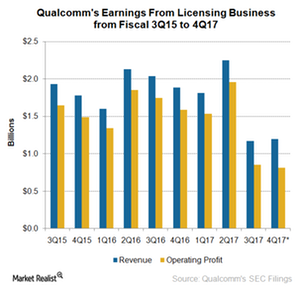 What Qualcomm's Licensing Business Is Doing about Legal Headwinds
Qualcomm's licensing business
Qualcomm's (QCOM) legal battle with Apple (AAPL) has been gaining a lot of media attention and was the only cause of Qualcomm's stock price decline. Both companies are using their monopoly power to outrun each other and force the other to settle. This has made the dispute grow globally.
Over the past two years, Qualcomm has paid nearly $2.7 billion in fines to regulators in China and South Korea (EWY) and is now facing a new fine of $774 million from Taiwan (EWT). The company is also facing probes from European and US regulators and may face fines from them as well—if the probes end up going against Qualcomm.
Article continues below advertisement
Why have Qualcomm's licensing practices become a target?
What's interesting is that all the fines and probes are directed toward Qualcomm's licensing practices. They all allege that the company has misused its monopoly to force customers to pay licensing fees for technologies they are not using and charging the fee on the selling price of the end device.
Until now, mobile OEMs (original equipment manufacturers) didn't seem to mind paying a high licensing fee, but now that the smartphone market has matured, OEMs are starting to compete on pricing, which is reducing their margins and making it more difficult for OEMs to foot Qualcomm's heavy licensing bill.
Qualcomm's QTL earnings depend on the number of device shipments and their ASPs (average selling prices). If the current probes force Qualcomm to change its licensing practices, ASPs would no longer be a growth driver for QTL.
QTL earnings  
QTL's operating income fell $1.1 billion in fiscal 3Q17 as Apple did not pay $1 billion in licensing fee. The operating income fell another $100 million as its legal expenses increased. Apple accounts for 30% of QTL's revenue, as its products command the highest price.
Qualcomm expects QTL revenues to remain sequentially flat at ~$1.2 billion but expects operating income to fall 4.4% sequentially to $816 million in fiscal 4Q17.
Until these licensing disputes resolve, Qualcomm's QTL earnings will likely remain low, even though the overall smartphone market has a positive outlook. Qualcomm expects its worldwide device shipments to rise 6% YoY (year-over-year) to 1.8 billion in 2017 and Smartphone ASP declines to moderate in the long term.
These licensing disputes have meanwhile proven expensive for Qualcomm and have impacted its cash flows. However, more such headwinds are likely on the way. In the next part, we'll discuss whether the company has the financial strength to withstand any more fines.