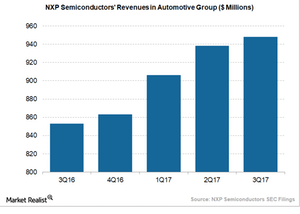 Is Qualcomm Advancing with Its NXP Acquisition?
Regulatory approval
Qualcomm (QCOM) has experienced a variety of challenges in the last few months related to its high-profile acquisition of NXP Semiconductors (NXPI). The $47 billion deal, including debt, was announced in October 2016 and was earlier expected to close in 2017.
However, the deal's consummation was postponed until early 2018 due to a delay in the antitrust review process and other challenges faced by the company. Nevertheless, Japanese regulators are set to give antitrust clearance to the pending merger of NXP Semiconductors.
European regulators are expected to provide a green light to the deal by the end of the year, with some concessions requested by the regulators.
Article continues below advertisement
Qualcomm might offer a higher bid
NXP shareholders were also pushing Qualcomm to increase its initial takeover offer of $110 per share. This push occurred after activist investor Elliott Management increased its stake in NXP to 6% and fueled NXP shares in August 2017.
Amid the recent positive developments in NXP, US-based (SPY) smartphone chipmaker Qualcomm might increase the takeover bid price. Qualcomm is firm on completing the NXP acquisition.
Benefits of the NXP acquisition
The acquisition of NXP is vital for Qualcomm (QCOM). The deal would position QCOM as the second-largest semiconductor company with respect to sales, just behind Intel (INTC). The deal would also strengthen the company, making it a difficult acquisition target for Broadcom (AVGO)
Broadcom has offered to acquire Qualcomm, but the bid was rejected. Qualcomm's strong foothold in areas like healthcare, Internet of Things (or IoT), networking, and mobile technology would also be beneficial for NXP.
The deal would help Qualcomm become the most significant chip supplier to the fast-growing automotive market. The chart above shows NXP's robust position in that space.