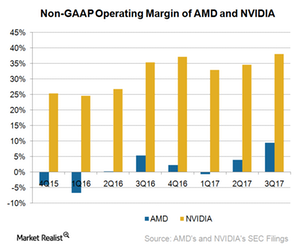 Prolonged Stock Consolidation Is Bad for AMD
By Puja Tayal

Dec. 4 2020, Updated 10:53 a.m. ET
AMD stock consolidates
Earlier in this series, we saw that Advanced Micro Devices (AMD) stock has consolidated in 2017 after year-long growth in 2016. The stock price fell even though the company's fundamentals improved. AMD is a growth stock. Its price depends more on future growth opportunities than its current fundamentals. In AMD's case, profits are more important because it has been struggling to remain profitable.
If AMD's consolidation period continues for a longer period, investors might switch to other stocks that are moving. The most likely alternative for investors is NVIDIA (NVDA), which is a growth stock. It has exposure in similar areas as AMD. NVIDIA has many advantages that could attract investors.
Article continues below advertisement
NVIDIA or AMD?
NVIDIA has a strong operating margin, which is growing in every quarter. Its non-GAAP (generally accepted accounting principle) operating margin rose from 32.9% in fiscal 1Q18 to 38.1% in fiscal 3Q18. On the other hand, AMD can barely manage to report a positive operating margin.
NVIDIA has higher revenue growth than AMD. NVIDIA's revenue grew 32% YoY (year-over-year) in fiscal 3Q18, while AMD's revenue rose 26% YoY during the same quarter.
Also, NVIDIA has leveraged its GPU (graphics processing unit) technology beyond gaming and into the data center, autonomous vehicles, and professional visualization. The company has a first-mover advantage in the AI (artificial intelligence) space and autonomous driving space. It shows that the company has strong growth potential even if there's competition.
Despite its strong growth, NVIDIA still has more growth potential. Jeffries analyst Mark Lipacis think that NVIDIA would benefit the most from the AI revolution.
Leaving fundamentals aside, NVIDIA is a winner even in technical analysis. The stock has been on a growth path for the last two years, broke its resistance, and made new records. Wall Street analysts raised their bullish target price for NVIDIA five times in the past seven months.
While NVIDIA has many positives, AMD stock has growth potential in the long term. AMD has risen from near bankruptcy. Since it has grown from nothing, there's plenty of room for the company to grow.
AMD an attractive buyout target
Broadcom's (AVGO) hostile takeover bid of $105 billion for Qualcomm (QCOM) highlighted that old chipmakers hold significant value. The bid also showed that there's a lot of capital and resources to fund such a large deal. AMD's rich technology portfolio ranging from discrete GPUs (graphics processing units) to high-end CPU (central processing units) makes it an attractive buyout target for companies that lack microprocessor technology.