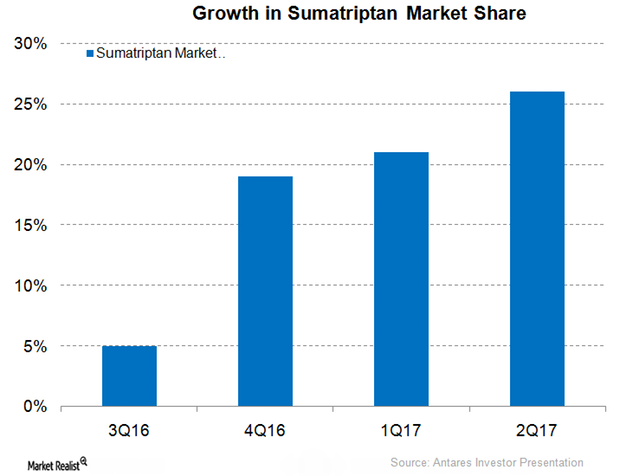 Which Products Are Driving Revenues for Antares Pharma in 2017?
By Kenneth Smith

Nov. 16 2017, Updated 7:32 a.m. ET
Otrexup
Currently, Antares Pharma (ATRS) has four marketed products. Of these products, Otrexup generates ~25.0% of its revenues, representing the plurality of the company's revenues.
Otrexup was launched in the US in February 2014. It was the first subcutaneous methotrexate that was approved by the FDA as a once-weekly self-administration therapy for rheumatoid arthritis patients.
According to the Arthritis Foundation, rheumatoid arthritis affects approximately 1.5 million Americans, which is ~0.5% of the US population. Methotrexate is the most commonly prescribed anti-rheumatic drug and is used in an estimated 70% of rheumatoid arthritis patients.
Article continues below advertisement
By the end of December 2016, Otrexup had been prescribed by ~2,800 physicians. The drug, however, is facing significant competition from generic methotrexate tablets. It also faces competition from parenteral forms of methotrexate, which are marketed by companies such as Teva Pharmaceutical (TEVA), Pfizer (PFE), and Mylan (MYL).
Pfizer's Xeljanz is a major competitor for Otrexup. The drug generated revenues of $336.0 million for the quarter ended July 2017 compared with $217.0 million for the same period in 2016.
To increase sales, Antares Pharma has followed a strategy of lower pricing and discounts to secure a favorable position on formulary lists for the drug. It expects this strategy to increase Otrexup's market share.
Sumatriptan injection
In June 2016, Antares Pharma (ATRS) launched Sumatriptan Injection, indicated for the treatment of migraine and cluster headaches in adults. This injection represented the company's first abbreviated new drug application (or ANDA) approval for a complex generic product and second product approved using the Vibex autoinjector platform.
Sumatriptan injection is commercialized and distributed by Antares Pharma's partner Teva Pharmaceutical. According to a survey by the National Headache Foundation, migraine affects nearly 37.0 million Americans. The total US retail anti-migraine market was $5.3 billion in 2016, according to Symphony Health Solutions.
Injectable products accounted for ~335 million of this market. Sumatriptan is the only injectable triptan approved for use in the US. The product achieved a market share of 26.0% in 2Q17, up from 21.0% in 1Q17.
Antares Pharma comprises ~0.67% of the Guggenheim Raymond James SB-1 Equity ETF's (RYJ) total portfolio holdings.
In the next part of this series, we'll take a look at Antares Pharma's current pipeline of products.