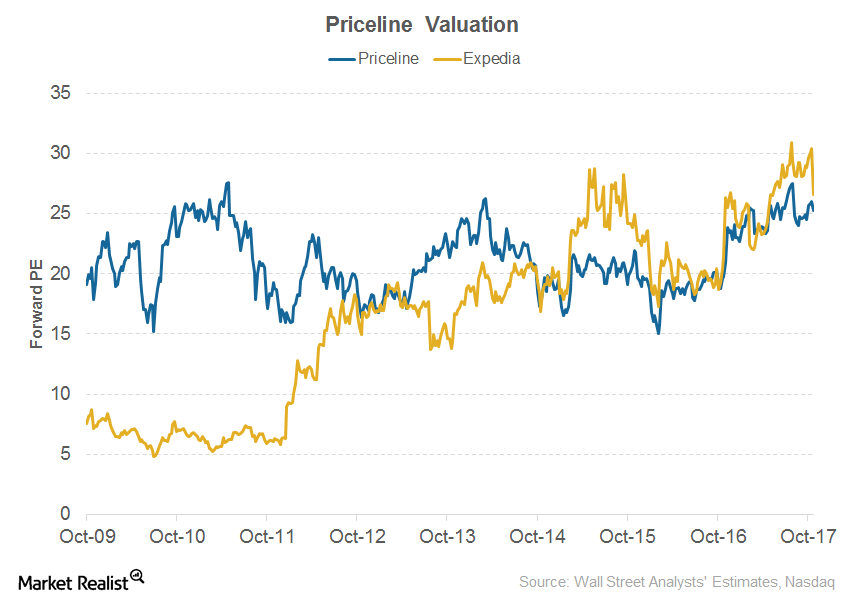 Priceline's Valuation: What Is Priced In?
Current valuation
Currently, Priceline (PCLN) trades at a forward PE (price-to-earnings) multiple of 25.2x. This multiple is higher than its average valuation of 22.0x since November 2008. This multiple is slightly lower than rival Expedia's (EXPE) forward PE multiple of 26.6x and the industry median multiple of 29.7x.
The peers used in this industry median calculation include PCLN and EXPE. Other players like TripAdvisor (TRIP) and Ctrip.com (CTRP) are not strictly comparable and are excluded.
The market is expecting Priceline's earnings per share (or EPS) to grow 14.2% in 2017 and then increase to 15.2% in 2018. Rival Expedia's earnings per share are expected to grow 3.6% YoY (year-over-year) in 2017 and then increase to 18.5% YoY growth in 2018.
Article continues below advertisement
What should investors look for?
Online travel stocks have been hit with a variety of challenges in 2017, including the terror attacks in Europe and Hurricanes Harvey, Irma, and Maria. These events affected tourism and, as a result, online travel stocks.
For the short term, investors could be watching gross bookings growth. Priceline's current valuation indicates that investors are currently factoring in higher growth for gross bookings.
In the event that Priceline's bookings growth doesn't meet expectations, investors should remember its long-term growth story is still intact. Online travel is expected to grow at a double-digit pace. Factors contributing to this growth include increasing Internet penetration, growing disposable income, and a growing number of travelers.
Investors can gain exposure to Priceline by investing in the iShares US Consumer Services ETF (IYC), which invests 2.9% of its portfolio in the company.