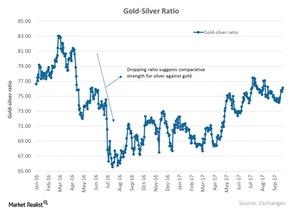 Precious Metal Markets: A Brief Look at the Gold–Silver Spread
By Meera Shawn

Nov. 13 2017, Updated 10:56 a.m. ET
Gold and silver returns
The past week has been beneficial for precious metals—gold, silver, platinum, and palladium rose 0.42%, 1.5%, 0.63%, and 1.5%, respectively. The fluctuations in these metals were most likely due to geopolitical tensions rising in various parts of the globe, particularly the Middle East.
Much of October's unrest was also due to the decision regarding the next chair of the Federal Reserve. This selection was seen as crucial to the movement of interest rates in the US. The stance of the Federal Reserve could be more dovish, as Jerome Powell was chosen to head the US central bank.
This change in leadership could give some buoyancy to gold and silver. Gold is the most influential of the precious metals.
Article continues below advertisement
The price volatility for silver is often much higher than gold's price volatility. On November 7, 2017, the call implied volatility in gold was 8.9%, while the call implied volatility in silver was 16.6%. Call implied volatility is a tool used to measure the variations in the price of an asset, given the price fluctuations in the asset's call option price.
Gold and silver are closely associated with funds such as the iShares Gold Trust ETF (IAU) and the iShares Silver Trust ETF (SLV). These funds have seen year-to-date gains of 10.7% and 6%, respectively. They have been known to move in the same direction as gold and silver, respectively.
Reading the ratios
To review the relationship between gold and silver, we can conduct a spread analysis between the two precious metals. The gold–silver spread (or ratio) measures the number of silver ounces it takes to buy a single ounce of gold. This spread stood at 75 on November 7, indicating that it took 75 ounces of silver to buy a single ounce of gold on that day.
As you can see in the chart above, this spread has dropped steadily since the start of 2016. As a result, it currently takes fewer ounces of silver to buy one ounce of gold. However, any increase in this spread indicates weakness in silver and strength in gold.
Mining stocks are also substantially impacted by the interplay between gold and silver and the overall mining industry. These stocks include Franco-Nevada (FNV), IamGold (IAG), Hecla Mining (HL), and Royal Gold (RGLD).