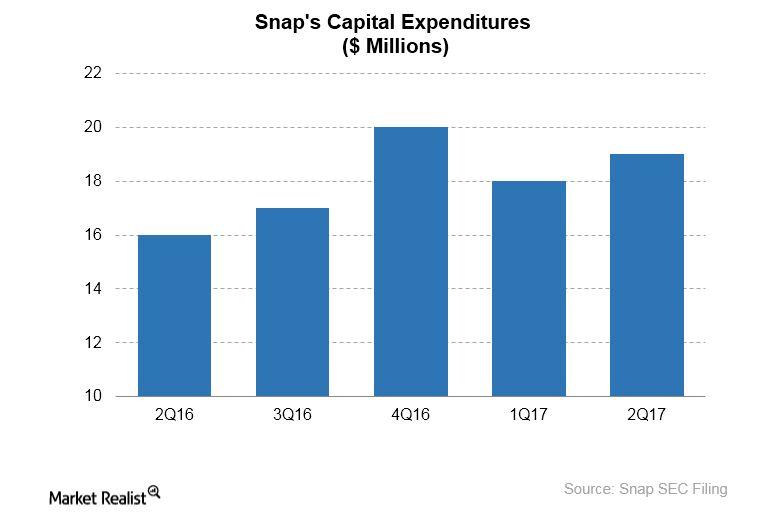 Pre-Earnings Update on Snap's Financial Goals
Growing revenues is Snap's top financial goal
During the release of its 2Q17 results in August, Snap (SNAP) highlighted its three financial goals to enhance shareholder value. Snap's first financial goal is to drive revenue and ARPU (average revenue per user) growth while expanding its gross margin.
In 2Q17, Snap's revenues grew 153.0% year-over-year (or YoY), and its worldwide ARPU rose 109.0% year-over-year to $1.05. In the same quarter, Facebook's (FB) revenues grew 45%, Alphabet's (GOOGL) revenues increased 24%, and Yelp's (YELP) revenues rose 20% YoY. However, Twitter's (TWTR) revenues fell 5.0%.
Snap's gross margin was 19.0% in 2Q17, up 51.0% year-over-year. These results showed that Snap made solid progress toward its first financial goal in 2Q17.
Article continues below advertisement
Moderating capital spending
Snap's second financial goal is to moderate capital intensity with a view toward improving its free cash flow. Snap's capital expenditures totaled $19.0 million in 2Q17, up from $18.0 million in 1Q17 and $16.0 million in 2Q16.
Snap posted negative free cash flow of $29.0 million in 2Q17. In the upcoming 3Q17 earnings report, investors expect to look for any changes in capital expenditure and free cash flow relative to 2Q16.
Driving innovation and monetization
Snap's third financial goal is to invest in what its management calls "front of house resources," as well as mergers and acquisitions to support rapid innovation and monetization.