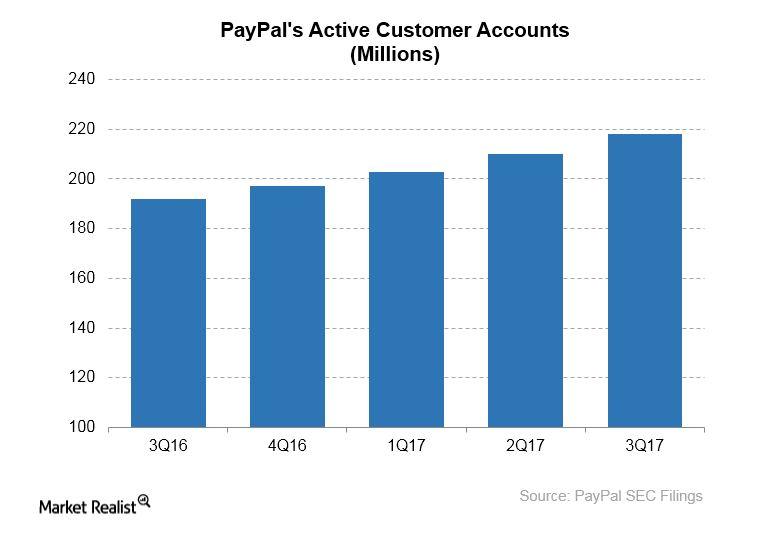 Why PayPal Is Selling Its Loan Portfolio
Synchrony acquiring roughly $6.8 billion in consumer loans
PayPal (PYPL) recently announced it's selling a $5.8 billion consumer loan portfolio to Synchrony Financial (SYF). Additionally, Synchrony will purchase an additional $1.0 billion in consumer loans from certain PayPal loan investors.
The consumer loan portfolio that PayPal is selling to Synchrony is based primarily on credits extended to US (SPY) shoppers. PayPal closed 3Q17 with more than 200 million active consumer accounts and more than 17 million merchant accounts worldwide for a total of 218 million active customer accounts.
Article continues below advertisement
Boost to financial flexibility
The transaction with Synchrony is expected to yield $5.8 billion in proceeds for PayPal. The sale of the US consumer loan portfolio is further expected to free up cash currently tied to funding credit. In an interview with the Wall Street Journal following the announcement of the loan transaction with Synchrony, PayPal's chief financial officer, John Rainey, said the deal would free up about $1.0 billion a year in cash, which could boost PayPal's financial flexibility and potentially allow it to invest in higher-return ventures.
Strategic acquisitions
PayPal could use the nearly $6.0 billion from the loan transaction for acquisitions and share repurchases. According to Crunchbase, PayPal has so far this year completed two acquisitions including the acquisition of Tio Networks for about $238 million. PayPal's payment rivals Square (SQ), Amazon (AMZN), and Alibaba's (BABA) Ant Financial have completed or are in the process of completing one, two, and six acquisitions, respectively, so far this year.
PayPal's transaction with Synchrony is expected to close around mid-2018.