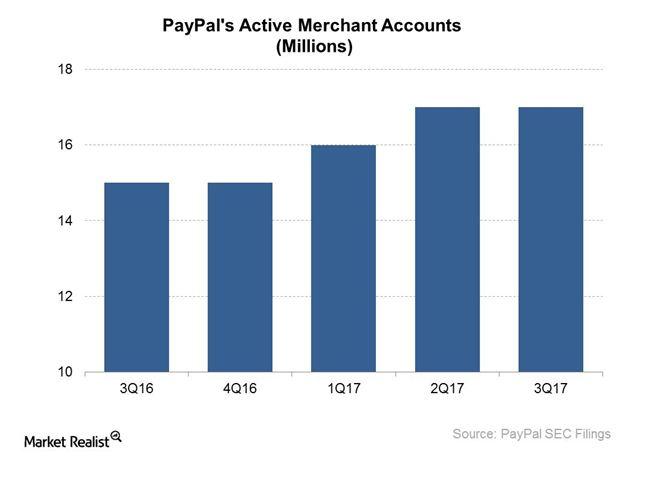 PayPal for Marketplaces Goes Global
PayPal for Marketplaces for online fundraising
PayPal (PYPL) is rolling out globally its new product designed for businesses that operate online marketplaces. PayPal for Marketplaces, as the new product is called, provides payment solutions for businesses accepting and disbursing funds. The product is suited, for example, for e-commerce operators with specific needs around fees, commissions, and multi-seller disbursement.
PayPal for Marketplaces is also positioned as suitable for online fundraising needs and payments on platforms such as ride-hailing and room rentals.
Article continues below advertisement
An easily customizable payment solution
Although PayPal already offers a variety of business solutions, its PayPal for Marketplaces is different in a number of ways, according to PayPal's description of the service. For example, it allows businesses more flexibility and convenience in customizing their implementation of PayPal services. A business, for instance, could choose to handle payment disputes and chargebacks instead of letting PayPal do it, as it typically does.
On platforms that have implemented PayPal for Marketplaces, buyers have a wide variety of payment options. For example, buyers can pay using PayPal or their credit or debit cards.
Early adopters of PayPal for Marketplaces include marketplace operators Grailed, Rocketr, and AliExpress, which is China-based (MCHI) Alibaba's (BABA) online international retail platform.
PayPal and Square: Competition continues
The global rollout of PayPal for Marketplaces seems to mark an increase in competition between PayPal and Square (SQ). These two US-based (SPY) payment companies are vying for revenues in the merchant payments processing market.
In addition to rolling out new services and features that simplify transactions, they are also persuading merchants with credit where they supply small business loans to their merchant clients. PayPal finished 3Q17 with more than 17 million active merchant accounts, up from about 15 million a year ago.