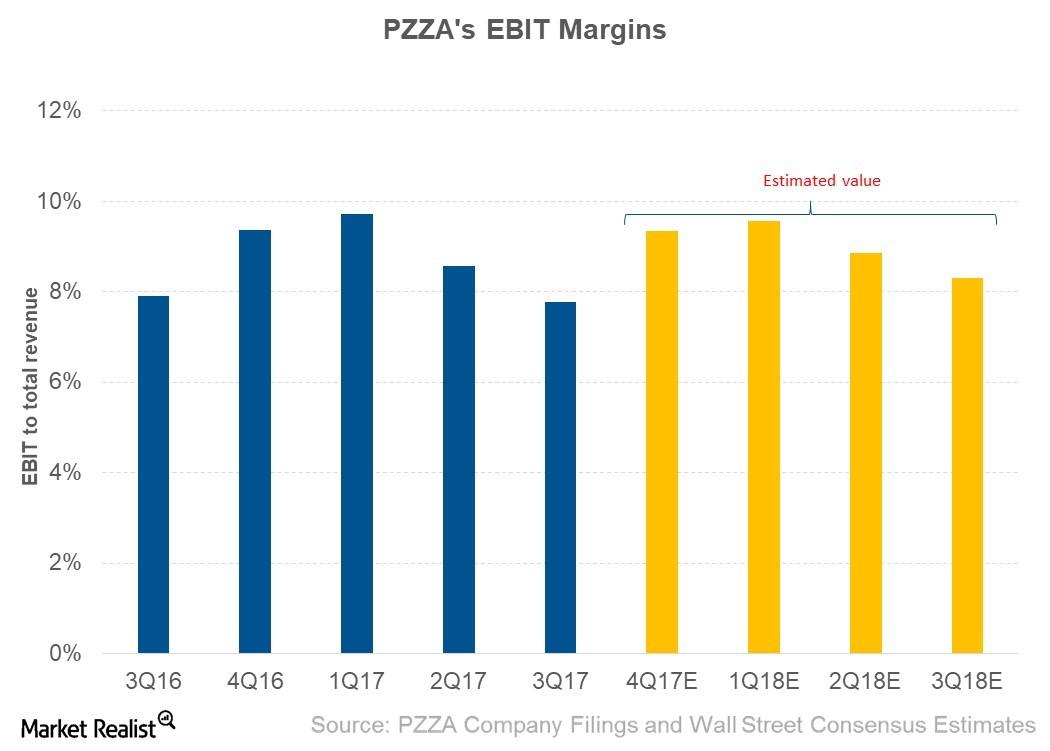 Why Did Papa John's Earnings Margin Decline in 3Q17?
EBIT Margins
For 3Q17, Papa John's (PZZA) reported EBIT (earnings before interest and tax) of $33.5 million, which represents an EBIT margin of 7.8%. In 3Q16, the company's margin stood at 7.9%.
Papa John's 3Q17 EBIT margin fell due to the decline in the restaurant margins of domestic company-owned restaurants and North American commissaries. The restaurant margins of domestic company-owned restaurants fell 1.2% due to increased delivery expenses. The margins of North American commissary and others fell 1.5% due to increased operating and start-up expenses associated with the opening of its new Quality Control Center in Georgia.
Article continues below advertisement
However, part of the decline in the EBIT margin was offset by a rise in the restaurant margins of international restaurants and lower G&A (general and administrative) expenses. The margins of international operations rose 2.0% due to sales leverage from positive SSSG, while G&A expenses fell from 9.6% of total revenues to 8.6% due to lower management incentives.
Peer comparisons and outlook
For the same period, Domino's Pizza (DPZ) and Yum! Brands (YUM) reported EBIT margins of 18.3%, and 31.5%, respectively.
For the next four quarters, analysts are expecting Papa John's to report an EBIT margin of 9.0%, compared with 8.9% in the corresponding four quarters of the previous year.
Next, we'll look at Papa John's 3Q17 EPS (earnings per share).