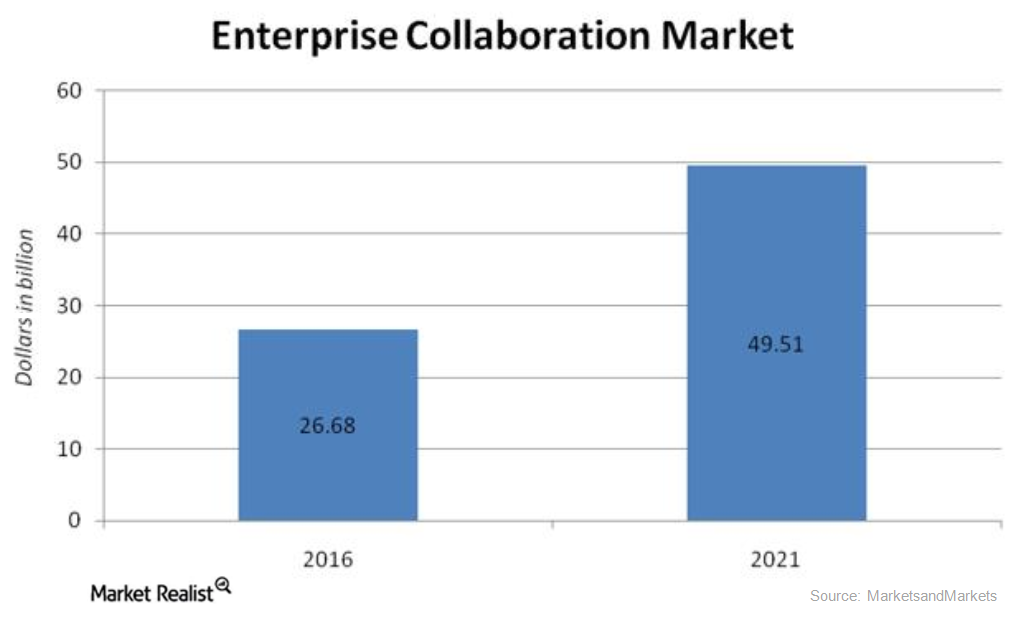 Why Oracle Is Drawn to Enterprise Collaboration Space
Oracle to leverage longstanding presence in enterprise software space
Earlier in the series, we discussed the factors that would prove beneficial for Oracle (ORCL) by partnering with Slack.
Players such as Oracle and Microsoft (MSFT) enjoy a dominant presence in the enterprise software space but haven't fully transitioned to a cloud model. They're integrating their collaboration apps (applications) into its productivity suites to increase their lure and appeal to organizations that are content with the siloed approach. Enterprises that follow the siloed approach prefer not to share information with their own groups or departments.
Google (GOOG) has adopted this approach. Cisco Systems (CSCO) and Slack, on the other hand, offer a single offering or less-extensive offerings.

Article continues below advertisement
Enterprise collaboration market expected to be $49.5 billion market by 2021
Slack is a dominant player in the enterprise collaboration space. This space is set to grow at a CAGR (compound annual growth rate) of 13.2% to become a $49.5 billion market by 2021, from $26.7 billion in 2016, as the above graph by MarketsandMarkets shows.
Increased adoption of cloud has fueled the continuous adoption of enterprise collaboration offerings by the end user, and this trend is likely to continue. According to Synergy Research Group, 3Q17 cloud infrastructure service revenues rose 40% on a YoY (year-over-year) basis to become a $12 billion market. Growth in the cloud space is expected to continue for some time. Although more than half the cloud space is dominated by Amazon (AMZN), Microsoft (MSFT), Google (GOOG), and International Business Machines (IBM), Oracle has managed to achieve high growth rates despite being late in the cloud. It is placed below the top five players among the ten top-ranked cloud providers.
By partnering with Slack, Oracle is not only entering the rapidly growing collaboration space but could also speed up its pace in the cloud.