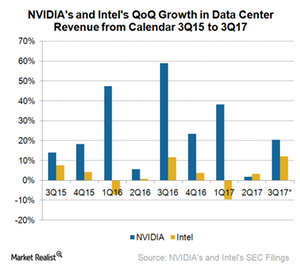 What Opportunities Does Intel See in High-End Graphics?
Growth opportunities in high-end graphics
Intel (INTC) is bringing Advanced Micro Devices' (AMD) semi-custom discrete GPU (graphics processing unit) on its mobile PC (personal computer) platform. Intel is also looking to develop its own discrete GPUs with the help of Raja Koduri. If the company succeeds in developing a stand-alone discrete GPU, it would likely be able to increase its dollar content on every PC platform.
As Intel dominates the PC processor market, the addition of a discrete GPU inside its microprocessors would likely help the company become a top player in the discrete GPU market. This integrated GPU solution would eliminate the need for a standalone GPU to run AAA games, thereby impacting NVIDIA's (NVDA) gaming revenues.
This discrete GPU offering would not only open the door to PC gaming but also to adjacent visual computing markets such as AI (artificial intelligence), giving an edge to Intel.
Article continues below advertisement
Why is Intel so interested in developing high-end graphics?
In 2006, Intel tried building its own discrete GPU architecture, codenamed Larrabee, but failed. The company used its learning from Larrabee to develop Xeon Phi HPC (high-performance computing) solutions.
Intel's re-entry in the high-end graphics market shows that the company has realized that the advent of visual computing is expanding the applications of GPU beyond PC and gaming and into AI and self-driving cars. NVIDIA has started to threaten Intel in the data center market, where it owns a ~90% share.
Intel participates in the data center market by selling high-performance server CPUs (central processing units). However, NVIDIA's Tesla GPUs are increasingly being adopted by cloud companies to perform deep-learning applications. As a GPU can deliver the performance of several CPUs, the former is reducing the demand for Intel's CPUs.
This trend has been visible in Intel's and NVIDIA's Data Center revenues, which grew 12% sequentially to $4.9 billion in calendar 3Q17, while NVIDIA's data center revenues grew 20% to $501 million. Although NVIDIA's data center business represents just 10% of Intel's data center business, the former's business is growing fast.
Intel offers five different AI platforms:
FPGAs (field programmable gate array)
the Xeon Phi
the Nervana NNP (Neural Network Processor)
the Myriad X
its traditional Core processor
But neither platform has been as successful as NVIDIA's discrete GPU. Given the strong growth potential of AI, Intel has become interested in discrete GPUs once again. If Intel succeeds in developing a GPU for data center, it would likely be able to increase its market share in the AI space.
The cases for self-driving cars and edge computing are similar. NVIDIA has the most advanced technology in these markets, but as these technologies are still in the development phase, Intel has time to catch up with NVIDIA and launch competing products by the time the trend has hit the market.
Next, we'll discuss how Intel's entry into discrete graphics could impact AMD.