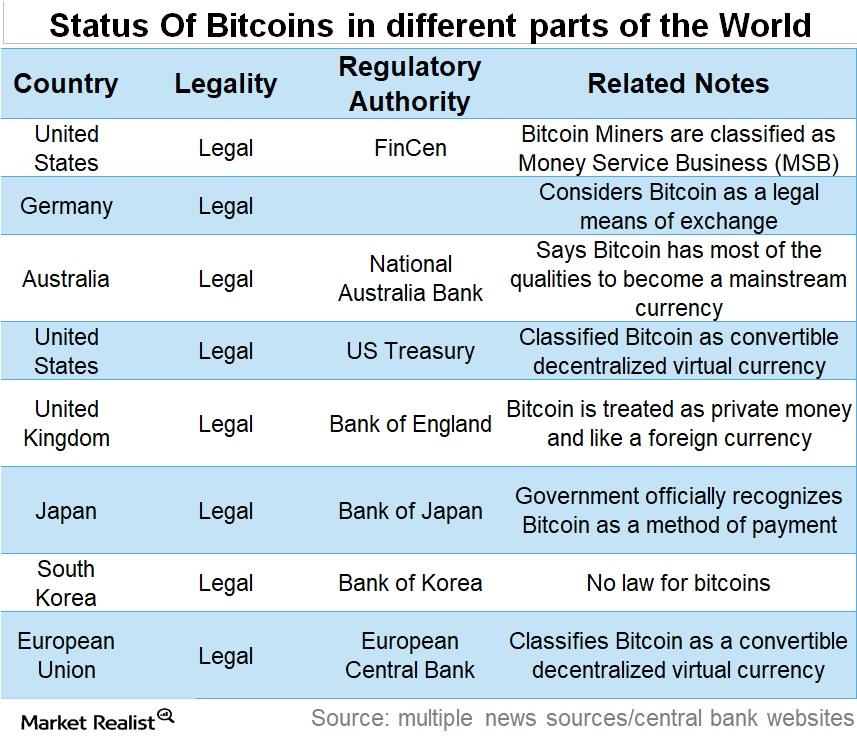 One Simple Question Answered: Is Bitcoin Even Legal?
Anonymity is the big issue
The most important concern that governments have about cryptocurrencies (ARKW) is anonymity. One can transact in an online marketplace without leaving a trace of his or her identity.
In 2013, the US closed an online marketplace called Silk Road, which specialized in selling illegal goods. Such websites exist on anonymous browsing networks, also referred to as "the dark web," which can be accessed by downloading special tools and helps browse the Internet anonymously. All these sites accepted cryptocurrencies and have attracted sellers of illegal goods, fueling the belief that bitcoin is being used to pay for or fund illegal activities.
Article continues below advertisement
Is bitcoin or any other cryptocurrency regulated?
This is a tough question to answer. What is it exactly that regulators must regulate? There's no physical currency (UUP) backed by any assets, but many central bankers and financial regulators are noticing and recognizing virtual currencies. Anyone can buy and sell bitcoin, but how and where you can use bitcoin depends on your country of residence.
In the US, Financial Crimes Enforcement Network (or FinCEN), published guidelines for users of virtual currencies, which would be registered as MTBs (money transmitting businesses) and should follow guidelines to prevent money laundering and collect customer information.
In banking terms, these are known as AML (anti-money laundering) and KYC (know-your-customer) regulations. Another highlight of the bitcoin (ARKK) resolution is that the CME (Chicago Mercantile Exchange) has announced that it will launch bitcoin futures soon, which would be cash settled and based on a BRR (bitcoin refinance rate).
The bottom line on regulations
To be sure, the regulatory framework for bitcoin is still evolving. The MTB classification is the closest to any regulatory step in the US. Users who buy and use bitcoin can do so in the US (VOO), but miners and exchanges would need to register as MTBs.
This is an evolving space, however, and so rules keep changing all the time. (We'll be discussing initial coin offerings or ICOs in a related Market Realist series).
In the next part of this series, we'll discuss if cryptocurrencies can be considered "normal" currencies (FXB) like the US dollar or the euro.