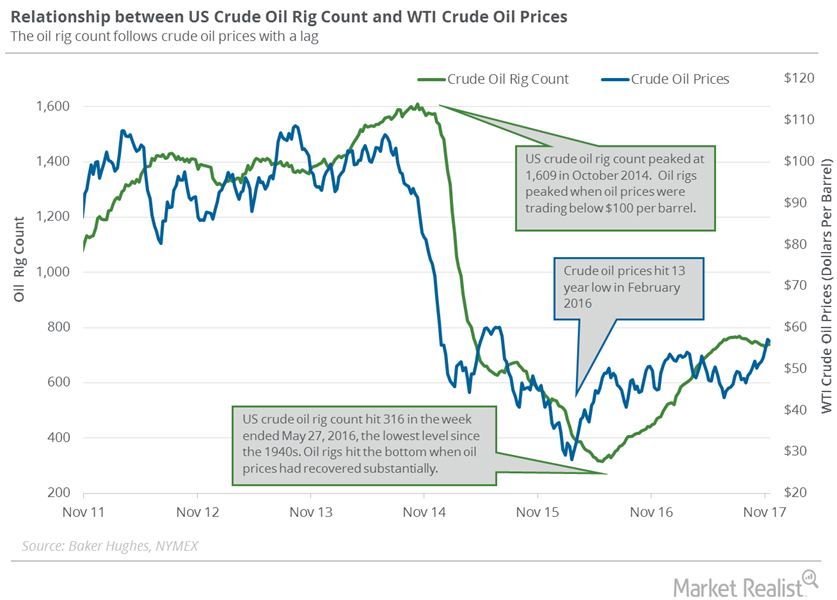 Oil Prices: US Crude Oil Rigs Could Reverse the Trend
Oil rigs  
Baker Hughes, a GE company, released its US crude oil rigs report on November 22, 2017. It estimated that US oil rig counts rose by nine to 747 on November 17–22, 2017. The rigs rose 1.2% week-over-week and 57.6% YoY (year-over-year). The rigs were near an eight-week high, while US crude oil (DTO) (USL) (DBO) prices are at a 30-month high. Higher oil prices drive drillers (IEZ) and oil producers (VDE) like Newfield Exploration (NFX), Energen (EGN), Transocean (RIG), and Halliburton (HAL).
Article continues below advertisement
Oil rigs and US crude oil production 
According to the EIA, US crude oil rigs follow oil prices with a four-month lag. US crude oil prices have risen 30% since June 2017. US crude oil production has risen 15% since the lows in July 2016. So, higher oil (DWT) (UWT) prices could drive US production to new highs. Meanwhile, the International Energy Agency estimates that the US will contribute 80% of the global rise in oil production in the next decade.
Monthly international rig count 
According to Baker Hughes, international oil and gas rigs rose by 20 to 951 in October 2017—compared to September 2017. The rigs rose 2% month-over-month and 3.4% YoY. The international crude oil rig count rose by 13 rigs or 1.8% month-over-month and by 47 or 7.1% YoY in October 2017.