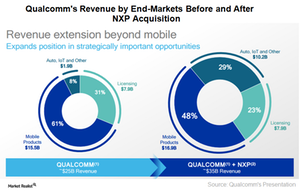 Why the NXP Deal Is so Important to Qualcomm
Qualcomm would not give up on NXP
The upward movement in NXP Semiconductors' (NXPI) stock price saw many analysts doubt the completion of the Qualcomm (QCOM) deal with NXP. While NXP's CEO (chief executive officer) Rick Clemmer says that the deal could slip to early 2018, Qualcomm says that it is on track to complete the deal by the end of 2017.
NXP investors have not been very cooperative with Qualcomm in tendering their shares, and so it can't be said with any certainty when would the deal close. But one thing is certain: Qualcomm will not likely let go of NXP at any cost. NXP is Qualcomm's biggest bet to reduce its dependence on licensing revenue and expand beyond the smartphone market.
Article continues below advertisement
Why is NXP important to Qualcomm?
Qualcomm has been trying to grow in adjacent markets organically but the pace of growth is not sufficient. It needs a head start in the automotive and the IoT (Internet of Things) space, and NXP provides that, with its 14% share in the automotive semiconductor market.
Qualcomm also needs NXP to compete strongly with NVIDIA (NVDA) and Intel (INTC) in autonomous driving. NVIDIA is leading the space and Intel is catching up by grabbing some big partnerships. Intel recently announced its autonomous driving partnership with Alphabet's (GOOG) Waymo, which could give the chipmaker the first mover advantage in autonomous driving.
NXP could boost Qualcomm's earnings
Meanwhile, Qualcomm is facing probes from around the world over its licensing practices. It seems that the company may have difficulty maintaining its licensing practices of charging a certain percentage as a royalty on the selling price of the end device.
If this happens, the company's overall profits would fall. But NXP brings with it a rich patent portfolio that could significantly boost QCOM's chipset profits because automotive chips command higher prices and have more stable sales than mobile chips. This could help Qualcomm reduce its dependence on licensing business, and the company could also license NXP's technology to other vendors for a fee.
In the next part, we'll look at Qualcomm's licensing business.