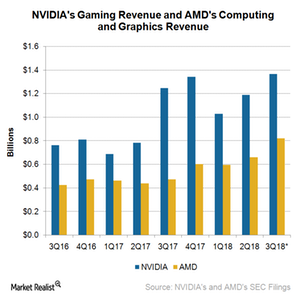 NVIDIA's Gaming Business Could See Strong Competition from AMD
NVIDIA's gaming business
NVIDIA (NVDA) has been reporting record earnings largely driven by strong demand from gaming and data center markets. The company continues to be a leader in the discrete GPU (graphics processing unit) market with over a 70% share even though rival Advanced Micro Devices (AMD) took some share away from NVIDIA.
According to Jon Peddie Research, AMD's discrete GPU market share rose from 27.5% in calendar 1Q17 to 29.4% in 2Q17. NVIDIA's share fell from 72.5% to 70.6% during that period. As gaming continues to be NVIDIA's biggest revenue source, it's important for the company to maintain a dominant market share.
Article continues below advertisement
Gaming revenue
In fiscal 3Q17, NVIDIA's gaming revenue rose 59% sequentially, as that marked the first full quarter of Pascal-based GeForce GPU sales. However, this growth slowed in the following quarters as NVIDIA launched budget versions of the GTX 10 series. The next big sequential growth of 15% came in fiscal 2Q18 when the company launched its very high end GTX 1080 Ti and Titan X.
NVIDIA didn't launch any new GeForce GPUs in fiscal 3Q18. But because it's a seasonally strong quarter, gaming revenue could rise 15% sequentially to $1.4 billion. Rival AMD's Computing and Graphics revenue rose 24% sequentially in fiscal 3Q17 thanks to strong sales of PC (personal computer) processors and rising prices of GPUs. The rising GPU prices could also drive NVIDIA's gaming revenue.
NVIDIA could likely witness the next big growth in gaming in fiscal 1H19 when it launches Volta-based GeForce GPU. In the meantime, NVIDIA is looking at ways to boost its gaming revenue by launching refresh products and expanding its gaming customer base beyond enthusiasts to include mainstream gamers and Apple (AAPL) MacBook users.
We'll look into this in the next part of the series.