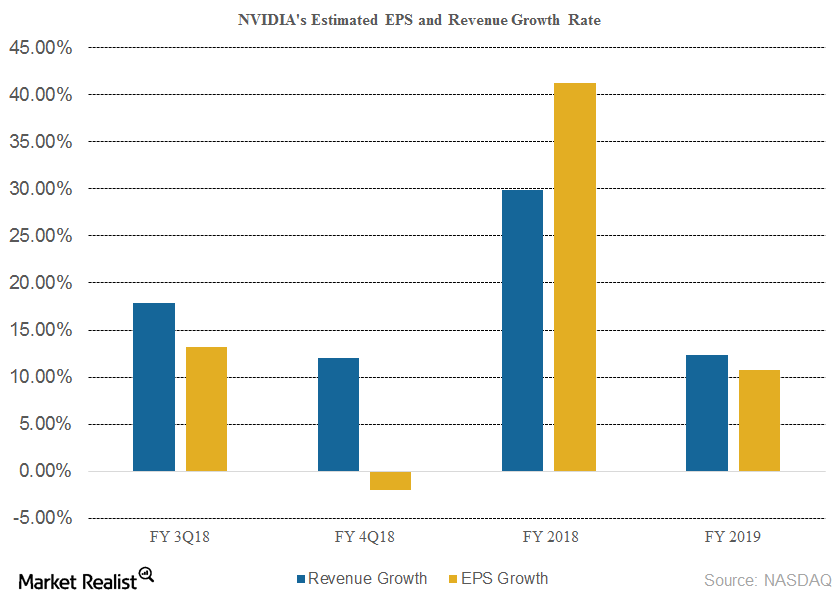 NVIDIA Stock Rose 15.7% in October 2017
NVDA stock rose 15.7% in October 2017
NVIDIA (NVDA) stock rose 15.7% in October 2017 to close at $206.81. The stock is now trading 210.0% above its 52-week low of $66.57 and 0.5% below its 52-week high of $207.89.
The stock also crossed the $200.00 barrier for the first time in October. NVIDIA has been generating significant returns for investors over the last two years. NVIDIA has generated returns of 190.0% in the trailing-12-month period. NVDA stock has risen ~94.0% since the start of 2017 after rising more than 227.0% in 2016.
Article continues below advertisement
New avenues for revenue growth
Like its peer Advanced Micro Devices (AMD), NVIDIA is also looking to target the cryptocurrency space. The two companies provide graphics chips for the powerful computers used to mine cryptocurrencies such as Bitcoin and Ethereum.
In fiscal 2Q18 (the quarter ended June 2017), NVIDIA stated that the sales of chips in the cryptocurrency vertical generated $150.0 million.
While NVIDIA's gaming and data center verticals have experienced revenue growth, the company is targeting high-growth areas such as AI (artificial intelligence), VR (virtual reality), and AR (augmented reality).
Revenue expected to rise in fiscal 2017 and beyond
Analysts expect NVIDIA's revenues to rise 17.9% YoY (year-over-year) in fiscal 3Q18 and 12% YoY in fiscal 4Q18. Analysts also expect the company's revenues to rise 30% YoY in fiscal 2018 to ~$9.0 billion and 12.3% YoY to ~$10.1 billion in fiscal 2019.