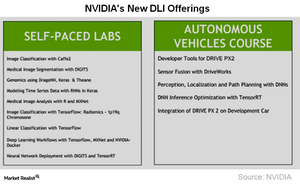 NVIDIA Expands Deep Learning Institute to Boost AI Research
NVIDIA expands Deep Learning Institute
NVIDIA (NVDA) is moving fast in its mission to make AI (artificial intelligence) affordable. The company is expanding its efforts to create more AI researchers and developers through its DLI (Deep Learning Institute).
Article continues below advertisement
Partnerships
NVIDIA's DLI aims to train 1,000 developers in deep learning every year. But this is not enough given the speed at which AI is growing. Thus, the company has partnered with government consulting firm Booz Allen Hamilton and online training company Deeplearning.ai to expand its reach to thousands of students, developers, and government specialists.
The partnership with Booz Allen Hamilton would bring NVIDIA's GPU technology to the federal sector and help government data scientists solve complex problems in healthcare, cybersecurity, and defense. NVIDIA is already working with more than 20 partners on DLI including Amazon Web Services (AMZN), Coursera, Facebook (FB), and Microsoft (MSFT).
Train the trainer
NVIDIA is also training university professors under its new NVIDIA University Ambassador Program. In this program, professors and instructors from around the world are trained on critical job skills and practical applications of AI for free. NVIDIA has also partnered with training delivery companies such as Skyline ATS in the US, Boston in the UK (United Kingdom), and Emmersive in India.
Article continues below advertisement
Domain-specific courses
NVIDIA has designed new courses that cater to domain-specific deep learning applications for finance, natural language processing, robotics, video analytics, and autonomous cars. DLI has also developed training laboratories to support these domain-specific courses.
NVIDIA supports Taiwan's AI Grand Plan
NVIDIA has been increasing AI adoption in China through a large collaboration with Baidu (BIDU) across various aspects of AI. Now, NVIDIA has expanded into Taiwan (EWT).
In August 2017, Taiwan announced its AI Grand Plan, which aims to create an environment that fosters AI innovations within the country. NVIDIA is collaborating with Taiwan's MOST (Ministry of Science and Technology) to support the latter's AI Grand Plan by providing the right infrastructure and right training to developers and AI startups in the country.
As part of the collaboration, NVIDIA's Volta-based DGX AI systems will power Taiwan's first AI-focused supercomputer. The company will provide deep learning accelerator technology for IoT (Internet of Things) and SoC (System on Chip) devices and will also provide technical support to MOST's ambitious project of AI Edge. MOST will provide local robotics experts access to NVIDIA DGX Station AI deskside supercomputers and NVIDIA Jetson TX2 AI modules.
For NVIDIA investors, this means more sales of high-margin Tesla GPUs (graphics processing units) in Taiwan. Next, we'll look at NVIDIA's automotive segment.