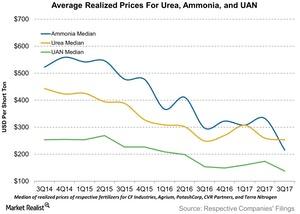 Why Nitrogen Fertilizer Prices Fell in 3Q17
Nitrogen fertilizer prices
On average, nitrogen fertilizer prices failed to show a meaningful growth YoY (year-over-year) in 3Q17. In several of our series, we've seen how a weakness in nitrogen fertilizer prices stemmed from overcapacity in the market. Capacity increased faster than demand, which eventually put a downward pressure on nitrogen prices. According to CF Industries (CF), a significant amount of production capacity for nitrogen was added in 2016–2017.
Article continues below advertisement
Overall prices
Except for urea, nitrogen fertilizer products such as ammonia and UAN (urea ammonium nitrate) continued to see a steep decline in prices YoY. On average, urea prices for the companies discussed below rose an average of 2% YoY. However, average ammonia prices fell 27% YoY, and average UAN prices fell 10% YoY.
Prices by companies
During the quarter, ammonia prices for all the companies below suffered the most. Compared to the companies in the above chart, CVR Partners' (UAN) ammonia prices fell the most by 38% YoY to $214 per short ton. Terra Nitrogen's (TNH) ammonia prices fell 27% YoY to $216 per short ton. PotashCorp's (POT) ammonia prices were $215 per short ton, a fall of 23% YoY. CF Industries' (CF) price fell 18% YoY to $235 per short ton. Agrium's (AGU) realized prices fell 4% YoY to $401 per short ton.
Terra Nitrogen and CVR Partners fell the most for UAN (urea ammonium nitrate) prices YoY, by 11% to $127 per short ton and by 10% to $138 per short ton, respectively. CF Industries' price fell 8% YoY to $144 per short ton.
Agrium's urea price fell 5% YoY to $282 per short ton, while CF Industries' urea price fell 4% YoY to $195 per short ton. In contrast, PotashCorp's urea price rose 2% YoY.
Understanding the price decline
According to CVR Partners, its ammonia and UAN prices fell YoY as a result of market pricing fluctuations. Terra Nitrogen attributed its YoY price decline to a "greater global nitrogen supply availability." CF Industries and PotashCorp echoed Terra Nitrogen in its assessment of a YoY price decline across nitrogen products (NANR).
Let's look next at gross margins.