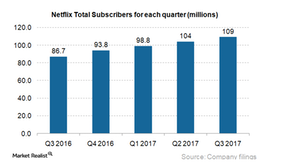 Netflix Enjoys Strong Content Pipeline in 4Q17
Strong content pipeline
Netflix (NFLX) continues to dominate the video streaming space with a strong content pipeline. The company will finish the year with the release of its much anticipated original film Bright starring Will Smith.
The fourth-quarter pipeline may not be as strong as the previous quarter, but Netflix has offered the second season of the high-rated franchise series Stranger Things, which has an IMDB (Internet Movie Database) rating of 8.9.
Netflix promoted the new season by teaming up with Target (TGT) to offer Stranger Things merchandise. Target may be planning to extend the partnership for other popular Netflix series.
Netflix also launched the original crime series Mindhunters in October. The series has already gained huge popularity, receiving a 95% critics rating on Rotten Tomatoes.
A strong program list for the fourth quarter of 2017 could further boost Netflix's subscriber growth. The above graph shows total subscriber growth for Netflix. In the last five quarters, subscribers have grown at a CAGR (compound annual growth rate) of 6%.
Article continues below advertisement
Movies and international lineups
This Christmas season, on December 22, 2017, Netflix will debut Bright, its $90 million film.
For its European customers, Netflix released its first Italian original series Suburra in October 2017. Its German (EWG) original supernatural family drama series Dark will premiere on December 1, 2017.
Netflix plans to spend $7 billion on content in fiscal 2017 and expects that budget to increase to $7 billion–$8 billion in 2018. These investments could expand its content portfolio and possibly drive subscriber growth.