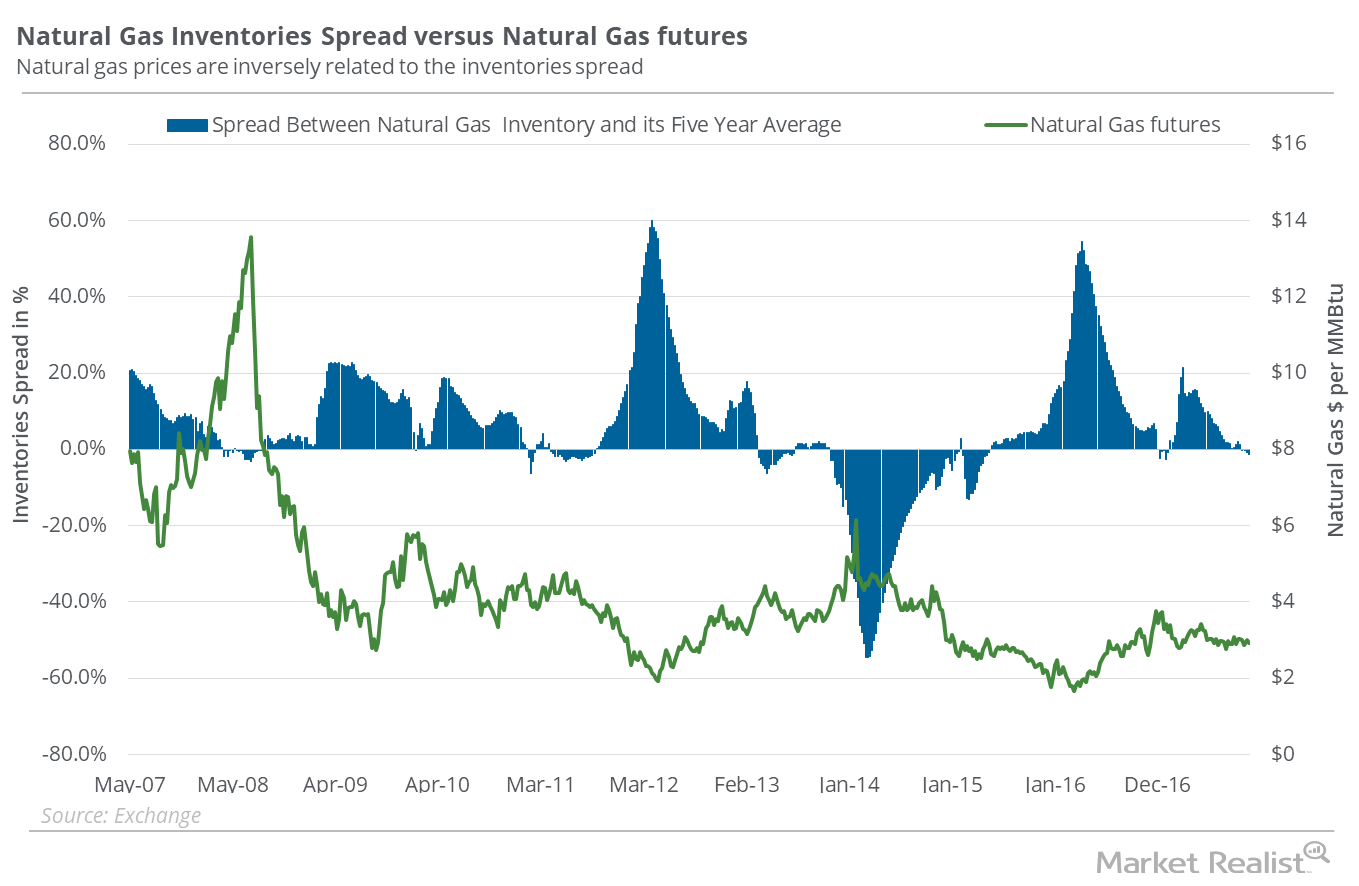 Why the Negative Inventory Spread Isn't Supporting Natural Gas Prices
Inventory data
In the week ended October 20, 2017, natural gas inventories rose 64 Bcf (billion cubic feet) to 3,710 Bcf. The rise in the natural gas inventories was 3 Bcf higher than the market's expectation.
On October 26, 2017, after the EIA (US Energy Information Administration) data release, natural gas price fell 1%.
Article continues below advertisement
Inventory spread
Natural gas inventories above their five year average could adversely impact natural gas prices. A flip in the difference—with the inventory spread turning negative—could help natural gas prices rise.
In the week ended October 20, 2017, natural gas inventories were 1.2% below their five-year average. In the same week, the inventory spread expanded by 20 basis points into negative territory. But even after the expansion in the inventory spread, natural gas prices have fallen 5.2% after the release of the inventory data on October 26, 2017, to date.
The bearish weather outlook and rising oil prices could explain the concerns behind the fall in natural gas.
Market estimates
For the week ended October 27, 2017, the market expects a rise of 63 Bcf in natural gas inventories. During the same period last year, natural gas inventories rose 54 Bcf. Any rise below 106 Bcf would likely keep the inventory spread negative.
For the inventory spread to widen further into negative territory, the rise should be below 60 Bcf. The EIA natural gas inventory data for the week ended October 27 will be released on November 2, 2017.
In the short-term period, movement in the natural gas inventory spread may not be important for equity indexes such as the S&P 500 Index (SPY) and the Dow Jones Industrial Average Index (DIA) because natural-gas-weighted stocks such as Antero Resources (AR), EQT (EQT) and Southwestern Energy (SWN) often have negative correlations with natural gas prices.