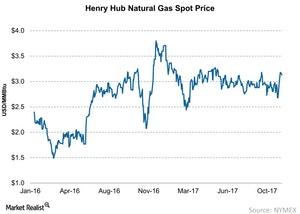 Natural Gas Prices Impacted Nitrogen Fertilizers Last Week
Natural gas prices
The average weekly natural gas prices at Henry Hub for the week ending November 17 moved higher week-over-week. For most of this year, the natural gas prices at Henry Hub have been relatively stable compared to the levels last year.
Article continues below advertisement
Weekly movements
Last week, the average weekly prices for natural gas rose as much as 12% week-over-week to $3.12 MMBtu (million British thermal units) from a weekly average of $2.78 MMBtu the previous week. Higher demand for gas driven by colder weather and a dip in the supply usually pushes natural gas prices higher.
Last week, the total US natural gas supply stood at 82.2 Bcf/d (billion cubic feet per day), which rose 1.5% week-over-week from 81.0 Bcf/d a week ago. Compared to the levels in the same week a year ago, last week's natural gas supply rose 8% from 76.1 Bcf/d.
Outlook
In its recent Short-Term Energy Outlook report, the EIA (U.S. Energy Information Administration) forecast that the natural gas prices in 2017 would average $3.01 per MMBtu and $3.10 per MMBtu in 2018.
Lower energy prices in the US benefited producers (XLB) like CF Industries (CF), Terra Nitrogen (TNH), and CVR Partners (UAN). Lower prices helped them maintain a lower production cost for nitrogen fertilizers. In contrast, PotashCorp (POT) has its nitrogen operations in Trinidad. It has seen availability constraints.
In the next part, we'll discuss phosphate fertilizers.